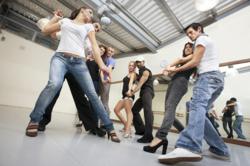 The process of claiming a voucher is very easy and convenient... I learned with a very nice teacher.
Boston, MA (PRWEB) July 10, 2012
Boston dance classes and fitness classes are exploding in popularity, but that doesn't make them easy to find. DanceNut.com today announced two unique programs that help Boston area dance and fitness fans find great new classes while going easy on the budget.
Dance Nut Intros(TM) are vouchers for free introductory Boston dance classes and fitness classes. Each voucher lets the recipient and a guest try out a free group class or private lesson with a local studio or teacher and receive a $10 discount towards further classes.
Dance Nut Deals(TM) are vouchers for exclusive discounts on Boston dance classes and fitness classes. Each voucher gives the recipient a valuable discount (usually 30% to 70%) on multi-class packages that can't be found elsewhere. In the future DanceNut.com will also offer discounts on other dance and fitness services and products.
"The Boston area is bursting with thousands of great dance and fitness classes each month, but it's hard to find and compare the options in order to discover a class that's convenient for you and that you'd really love," said Andrew Percey, founder of Dance Nut LLC. "With the Dance Nut web site you can easily find and compare all types of dance and fitness classes throughout the Boston area and then get budget-friendly vouchers so you can try them out for yourself."
DanceNut.com integrates these two voucher programs within its web site, which currently lists nearly 1,000 Boston area dance and fitness classes and events coming up in the next month plus over 150 profiles of local studios and teachers. Search tools make it quick and easy to find the information visitors want.
Visit DanceNut.com today to get started with free and discounted dance classes around Boston. Or stay informed with the Boston dance and fitness newsletter.
About DanceNut.com
Find dance and fitness classes, events, studios, schools, teachers and more. Take free and discounted classes. Dance Nut is the easy way to find dance and fitness around the Boston area.
Andrew Percey learned and taught Latin dancing in the San Francisco Bay Area while working his day job in the semiconductor industry as an engineering and marketing manager. Frustration with trying to find good dance information online sparked his idea for Dance Nut.