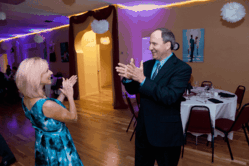 "The new structure for the programs is really great....before I didn't always have goals...but now...I always have something that I'm working toward, which I really like." - Julie A.
St. Louis, MO (PRWEB) May 31, 2012
Dance Pizazz has a proven approach that maximizes clients' advancement.
The speed and ease of learning to dance can be much improved when appropriate goals are set in place by the teachers and students. There are a multitude of benefits that exist for students when specific learning goals are set.
When trying to improve a specific skill or task, knowing the desired result is important to know when getting started. Setting short term goals gives focus which helps the learner to stay on track. When a ballroom dance student doesn't know where he or she is going, there is no clear path to attain a goal. Dance Pizazz teaches dance with a proprietary system that leverages, among other things as well…the power of focus based on goals.
Dance Pizazz has exciting and organized programs that help students through the learning process, which allows them to know where they stand in terms of reaching their dancing and personal goals. Professional instructors guide learning and help students set their goals, while being careful not to inject their own goals in the process. At Dance Pizazz the philosophy is that a person's dancing goals are ultimately their own, and everyone has unique and specific things they wish to develop in their dancing… and their life. Do you like a more formal institute of learning? Dance Pizazz's mission and vision embody developing the student to their fullest potential, in an organized, fun and logical way.
Dance Pizazz also gives Progress Checks throughout the process of learning. This is the studio's way of helping the students determine if they're satisfied with their instruction and are ready to move to the next program. This process is like a "check and balance", where the students have the opportunity to map out their own training in the program they are currently enrolled in.
Through identifying and setting goals upfront, along with periodic progress checks, students at Dance Pizazz inevitably learn easier and much faster…and enjoy tremendous personal satisfaction in the process.
ABOUT DANCE PIZAZZ
Dance Pizazz was founded in 2008 and has become one of the top ballroom dance studios in Missouri. Besides being an elegant ballroom dance studio in St. Louis, Missouri, boasting a novel and effective teaching method, lofty 10-foot ceilings, a custom-built floating hardwood dance floor, Dance Pizazz balances high-quality instruction, with a fun and friendly staff, resulting in a great student experience.
For more information:
(636) 441-6854
http://www.dance-pizazz.com