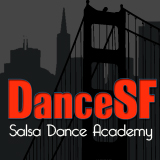 Beginners are our favorite. They bring the enthusiasm, curiosity, and sense of awe that keeps the salsa and dance scene alive year after year.
(PRWEB) August 23, 2012
Dance San Francisco, the San Francisco Bay Area's leading dance school for social dancing, announces its schedule for September 2012 dance classes.
The Dance San Francisco team has taught tens of thousands of Bay Area residents how to dance and is excited to open the doors to hundreds more next month during their September Progressive Series. With beginner, intermediate and advanced salsa dance classes available, Dance San Francisco is poised to take the San Francisco Salsa dance scene to a new level.
"Beginners are our favorite," says CEO Evan Margolin, "they bring the enthusiasm, curiosity, and sense of awe that keeps the salsa and dance scene alive year after year. We all started out as beginners and had hit or miss experiences when trying to learn. We took those experienced and created a system that helps new dancers fall in love with the dance form and the social outlet."
Margolin himself runs the Monday night salsa dance lessons in San Francisco, taking personal pride and satisfaction from coaxing the inner dancer out of hundreds of people each week who had been convinced they could never dance.
Next month also marks the first fall season of the Wednesday dance lesson series - the newest addition to the wildly successful Rockit Room dance class location. Having enjoyed years of success on Monday nights at the Inner Richmond venue, an expansion into Wednesday evenings was the logical next step for Dance San Francisco and exactly what dedicated students wanted and needed to take their dancing to the next level.
This September is also the second year of the popular Sunday party Hot Bachata Nights in North Beach, which features 4 dance classes every week. With a new class schedule, students will now be able to take beginner and intermediate Salsa classes and Bachata classes under the same roof. The new staggered start times allow dancers at either level to take both styles of Latin dance and progress throughout the month.
Margolin is not the only dance teaching veteran on staff this September - Dance San Francisco boasts one of the most impressive rosters of local and internationally recognized dance instructors for their fall series. "Most importantly," says Margolin, "is that all of our instructors know how to TEACH and are masters not only at their dance form, but at teaching as well. This sounds simple, but it's often overlooked in the performance/performer-centered world of dance."
September 2012 classes are lined up at DanceSanFrancisco.com. Classes are held in four-week series, with one session every week. Four-week sessions are very reasonably priced at only $60 per person for all four weeks, or students can drop in for a session for $20.
For more information about class schedules and registration, visit http://www.DanceSanFrancisco.com
About Dance San Francisco
Dance San Francisco is the local presence for SalsaCrazy.com, an internationally recognized company that has spent the last 15 years spreading the love of Salsa dance and music throughout the world. SalsaCrazy.com is involved in numerous Salsa dance ventures, including local dance classes and events, dance cruises, and teaching the world to dance through bestselling DVDs, available at SalsaCrazy.com.