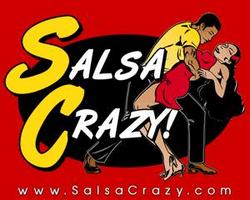 There's nothing more fun than getting a bunch of people together who share a love for dancing, salsa and an amazing vacation
San Francisco (PRWEB) May 21, 2008
From the fun loving travel adventurers whom brought you SalsaCrazy.com, the go-to site for news and information about worldwide salsa dancing, SalsaCruiseCrazy.com, the ultimate site for information about dance cruises to exotic destinations, has just unveiled their first 2009 salsa cruise.
"There's nothing more fun than getting a bunch of people together who share a love for dancing, salsa and an amazing vacation," said SalsaCrazy president Evan Margolin. "It's such a fantastic trip, but this year, with such an incredible live band as Chino Espinoza, it will be absolutely incredible. This year, it's truly the vacation of a lifetime."
Our brand new cruise to the Mexican Riviera, departs January 25th, 2009. An incredible cruise, in addition to top salsa dance instructors, three fantastic ports of call, seven days of crusing, and a fantastic vacation, also on board is the most highly sought after salsa orchestra in Losa Angeles, Chino Espinoza Y Los Dueños Del Son.
"This is really an incredible cruise. All our cruises are a lot of fun, but the addition of a live band, with dancing on deck, under the stars, should be magical" says Margolin. "
SalsaCrazyCruises.com gives you all the information you need to know about dancing cruises to exotic ports of call. Combine your love of travel with your love of dance with the help of SalsaCrazy.
"These salsa cruises are the ultimate combination of gorgeous destinations, a wonderful cruise ship and the best of entertainment and dance that the world has to offer," Margolin said. "We definitely don't want anyone to miss the boat, as it were, so we have dedicated a whole website to cruising information at http://www.SalsaCruiseCrazy.com."
SalsaCrazy has put on several successful salsa cruises and knows how to throw a great party. These week-long excursions are truly trips you will never forget. If you love to dance, you won't want to miss SalsaCruiseCrazy' fabulous packages on Carnival, Royal Caribbean and Norwegian Cruise Line cruise ships.
"These cruises are a great opportunity for those who love to dance and who love to travel," Margolin said. "It's really the best of both worlds. You get to see beautiful locations, travel to exotic places you may never have been to before, dance all you want and meet a bunch of people who enjoy dance as much as you do, all on a salsa cruise."
Cruises include classes, demonstrations, lots of dancing, and plenty of time for sightseeing as well. The food is top-notch and the instructors are some of the best out there. It's just like a regular cruise, gone "SalsaCrazy".
"Everyone has wonderful time on the salsa cruises," Margolin said. "We get many couples that come back year after year. It's really great to meet nice people who share your interest in dance and who can remain friends when you get back to land. It's a life-changing experience for all involved, perfect for couples, singles and groups of friends."
For more information on upcoming cruises, visit http://www.SalsaCruiseCrazy.com .
Margolin shares his passion for salsa through numerous ventures, including SalsaCrazyCruises and SalsaCrazy.com, the ultimate news and information source for worldwide salsa dancing. He is also the president of Dance SF, the Bay Area's hottest salsa dance studio, and he teaches the world to dance through his Learn to Dance Salsa DVDs, available at http://www.SalsaDanceDVD.com .
###