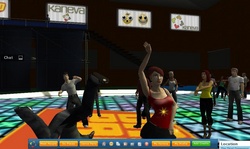 Today's launch of Dance Party 3D is an expansion of our community's love to connect, dance, compete, share music and build cool clubs.
ATLANTA (PRWEB) September 27, 2007
The corrected release reads:
DANCE PARTY 3D ROCKS YOUR WORLD: KANEVA LAUNCHES WORLD'S LARGEST DANCE GAME AND COLLECTOR GAME CARDS, FIRST DANCE GAME INSIDE A VIRTUAL WORLD
Everybody dance now! Kaneva, a rapidly growing virtual world with over 625,000 members, today launched Dance Party 3D, a free, casual game and social experience like no other. Kaneva's Dance Party 3D is the first virtual world-based, massive multi-player online (MMO) dance game where hundreds of thousands of people from across the globe can simultaneously bust out cool moves on the dance floor, compete and win dance battles, spin hot playlists, party at amazing clubs and even build their own rockin' 3D nightspot.
Kaneva's Dance Party 3D is free to join and play. It's the first game to support an unlimited number of players for game play and socializing, along with the added ability to explore a growing 3D world with thousands of virtual homes and hangouts.
"Kaneva's 3D virtual world is full of fun, friends and exciting entertainment," said Christopher Klaus, founder and CEO of Kaneva. "Today's launch of Dance Party 3D is an expansion of our community's love to connect, dance, compete, share music and build cool clubs."
Players can join the party by signing up for free at http://www.DanceParty3D.com. In addition, starting today, consumers can purchase Kaneva's first-ever collector game cards being sold exclusively in a major retailer's stores nationwide. The series of four collector game cards, being sold at $10 and $25 denominations, are redeemed online for immediate access to the game and include bonus, exclusive virtual dance gear and bonus credits ($25 denomination only) that can be used to buy more virtual items in Kaneva.
Get the Party Started
Players start off by creating their unique 3D persona or avatar. With over 55 million possible options and new avatar fashions available daily, players can create a 3D self with their very own style. For the fun to begin, avatars teleport into one of the two new Kaneva clubs created to feature the game or into one of thousands of Dance Party 3D Clubs created by Kaneva members. Once inside a Dance Party 3D club, players are immediately part of the party and can step onto the dance floor to start battling other players. Players can also choose to be spectators, can watch and take in the action, chat with others, and cheer on their friends.
Be the Next Kaneva Dance Star
Limelight seekers can take center stage and execute the perfect disco or hip hop move in the ultimate dance contest. Players start off doing simple dance moves, but as keystrokes become more accurate and faster, the steps get more advanced and impressive. Mastering these keystrokes helps players move on to the next level and earn "flares" - special moves such as back flips or complicated spins sure to impress everyone in the club. A multi-colored scoreboard shows players where they rank among other dancers. Players can also upload their videos and photos on the Dance Party 3D site to attract fans and win prizes.
Create Your Own Dance Club
Kaneva is the first to give its community the ability to create and host their own 3D Dance Parties in their very own dance club. VIP booths, video screens, swanky bars, chic sky lounges, hip mood lighting...the club design options are limitless. Party hosts can feature their own music mixes and generate buzz with special promotions and dance contests - red carpet optional, of course. And if virtual partygoers rave about a sizzling hangout, the establishment moves up the leader board with an opportunity to gain recognition, earn Kaneva rewards and win prizes.
Calling all DJ's: Become a Virtual Mix Master
Dance Party 3D also lets players bring their music passion to the turntable and become a DJ. Diverse genres - hip hop, rock, techno, salsa and country - let DJs create personal music mixes. If players submit their music mix and it gets enough raves, they'll see their selections jump to the top of the playlist!
For more information and to join the party, visit http://www.DanceParty3D.com.
About Kaneva
Designed for fun and friends and the virtual you, Kaneva is a virtual world full of people, entertainment, homes and hangouts. Kaneva is the first to combine social networking, shared media and collaborative communities with an immersive 3D Virtual World built for the masses. Latin for "canvas," Kaneva enables its members to express their real creativity and passions, and establish meaningful connections with others. For more information visit http://www.kaneva.com or http://www.kaneva.com/news.
Kaneva is a registered trademark of Kaneva Inc.