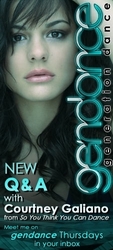 I love the way gendance works. I can't wait to connect with fans on a weekly basis in this cool, one-of-a-kind community.
New York, NY (PRWEB) April 2, 2009
gendance may be the new kid on the block, but they're quickly topping charts with cutting-edge technology and wanted personalities. An online partnership has been announced between Courtney Galiano and gendance due to its positive influence on young leaders.
gendance, short for generation dance, represents the creative voice of artists, musicians and companies within the global dance community-from Broadway to reality TV, to the local dance studio market. It's the first online trendzine for the industry of dance.
Beginning in April, a weekly feature will include an up close and personal Q&A section to give readers a taste of fame, pop culture, inspiration and the pressures of being a performer on tour. Readers can email questions to Courtney by emailing trendme (at) gendance (dot) com. And if you really like what she has to say, you can forward her interview page directly to friends' inboxes and post it on over 35 online social networks, ie: MySpace, Facebook, Twitter, Blogger. Each article and ad page hosts its own URL.
Galiano said, "I love the way gendance works. I can't wait to connect with fans on a weekly basis in this cool, one-of-a-kind community."
Don't miss the premiere of her exclusive debut on April 9th. Sign up to get your "Thursday fix" at http://www.gendance.com and keep your eyes peeled for Behind the Scenes interviews and photos that pay homage to the people who impact on the dance industry.
"Courtney Galiano is the first of many celebrity guests in line to partner with us, and our subscriber list has grown since we started the "buzz" last week," stated Elizabeth Barry, founder. "The photography of Lois Greenfield, the first of our distinguished partners, is featured every week as our gendance branded icon. We have an exclusive with this esteemed photographer to create patterns, gendance style, with her photography. Upcoming debuts include Geo Hubela, CHICAGO the Musical and SCENE Interactive," Barry added.
gendance prides itself on a personalized approach to email communication and has quickly sparked a counter-culture of eager subscribers.
Sign up now. Visit http://www.gendance.com today. Advertising opportunities are available by calling Elizabeth Barry & Associates, 201-217-6608.
###