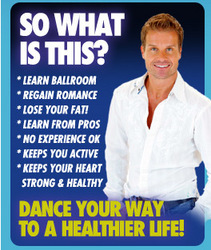 "The truth is, it LOOKS hard, but it's actually quite easy once we get those basics out of the way." Louis Van Amstel
Union Grove, AL (PRWEB) March 28, 2011
The ABC TV show, "Dancing With the Stars", pairs celebrities without professional dance training, with experienced ballroom champions. The couples perform dance routines each week in an effort to win a dance competition.
The genius behind the choreography that is seen on the show is Louis Van Amstel. He is world renown and his entire life has been devoted to teaching dance. This Dutch born dancing expert has won gold medals as a 7-time Dutch champion and a 3-time world champion.
Louis reports that some people, who want to dance the popular ballroom dances, are "concerned that the dance steps will be too hard to learn." However, the personal testimonies found at his site report that the training DVDs were easy to follow, and potential dancers quickly learned the steps.
Louis says "The truth is, it looks hard, but it's actually quite easy once we get those basics out of the way. This course was designed to teach you both the basics and some intermediate-advanced ballroom steps to turn YOU into a dance floor machine in no time! I've enjoyed teaching dance for many years now, from celebrities to small sized pro classes, they all have the same reaction to my course:"
His students say that the benefits of learning to dance are multiple:
-Trims the body and promotes weight loss
-Injects romance into personal lives
-Creates confidence and eliminates a fear of dancing
-Increases cardio health
Louis's dance training DVDs include the popular dances that are seen on "Dancing With the Stars" such as Jive, Rhumba, Salsa, Samba, Tango, Cha-Cha, Foxtrot, Waltz and more. The DVDs are instantly down-loadable, and include a free audio DVD that has popular dance music to use while learning to dance.
If one wants to learn to dance like the stars, a good place to start is with Louis Van Amstel's dance training DVDs. "Dancing With the Stars" invites him back year after year to train novice celebrity dancers; ABC apparently has great faith in his ability to teach dance.
###