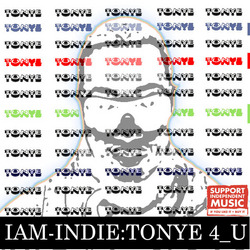 I want to open up and provide freedom for male singers to express themselves in any light.
New York, NY (PRWEB) September 1, 2010
Summer may be winding down but recording artist Tonyé is keeping things hot with the music video premiere for his club anthem, "Dance Dirty". Written and produced by Tonyé, the pulsating track serves as the first single from his "I Am Indie" EP which is currently available on iTunes. "Dance Dirty" marks the first time his unique vision has transitioned from studio to screen. The video is also his directorial debut. The rising superstar stretched his artistic muscle by creating the storyline and meticulously planning each shot. Tonyé's passion and individuality is evident in his body of work. "I Am Indie" is more than a title, it's a lifestyle.
Born and raised in Gainesville, Florida, Tonyé always had a greater purpose for his life. He grew up in a single parent household with his mother raising two children all while pursuing a nursing degree. She instilled in him a sense of strong family values, determination and responsibility. In 1999, his mother married a member of the US Navy and the family moved from Florida to experience the world. His travels definitely inspired his love for fashion, international culture and music.
In 2000, Tonyé attended the Duke Ellington School of the Arts in Washington as an Acting and Musical Theatre Major. Following high school he was accepted to Columbia College in Chicago as a Musical Theatre major. During his time at Columbia, he began experimenting more with music. His experimental journey led him to write and produce two R&B albums, "A Story About Love" and "Life After Love". In 2005, he met fellow Columbia student and aspiring artist Brentley Willis. The two bonded through their mutual love for music and Tonyé served as co-writer and producer for Brentley's first two studio albums. In 2009, Brentley won Best R&B Album of the Year from the Independent Music Awards.
With the release of the "Dance Dirty" video and his "I Am Indie" EP, Tonyé wants his work to speak to people on a worldwide level. "When I listen to my own music I feel it's universal music that all people can listen and dance to." says the rising star. "There are times we want to forget about our boring days, turn into a different person and escape the monotony."
This is just the beginning of Tonyé's musical journey. A journey filled with risks that challenge the ideals of ordinary male R&B singers. Tonyé plans to push both industry and artistic boundaries to the limit. "I want to open up and provide freedom for male singers to express themselves in any light."
###