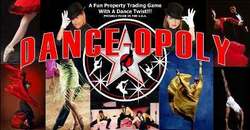 America is loving dance so much right now. We want our game launch to be fun and interactive
New York, NY (PRWEB) October 10, 2008
DANCE-OPOLY, the first and only board game for dance, has launched http://www.DanceWorldGotGame.com; the first and only interactive microsite for the dance industry. The announcement of an iPod sweepstakes, plus an exclusive download: Must Know Audition Secrets, has hit the dance studio circuit.
"America is loving dance so much right now. We want our game launch to be fun and interactive," stated Steve Notario, creator of DANCE-OPOLY. "Whether it's the experience of auditioning, or sending a friend a 'good luck' e-card for their next audition or competition, we want to give the dancers more. We knew we were on the right track when we started getting the interest of world class choreographers in the industry."
Hurry and visit DANCE-OPOLY's microsite for a chance to win a pre-loaded iPod filled with songs from this year's Tony-winning shows and exclusive choreographer music. Everyone that enters the iPod sweepstakes is immediately given a link to download the DANCE-OPOLY Must Know Audition Secrets that are not available anywhere else.
The successful audition strategies are contributed by today's most in-demand choreographers, including Tabitha and Napoleon of; "Monsters of Hip Hop" and "So You Think You Can Dance", Desmond Richardson of; "Complexions Contemporary Ballet" and "Alvin Ailey American Dance Theater", Karine Plantadit of "Lion King" and "Movin' Out", Gregg Russell of "3DDN", and Angel Feliciano "The Movement", plus so much more.
The iPod giveaway begins on October 10, 2008 and is only available online. The tips are great for both seasoned and new dance professionals. These tips are invaluable and will help all dancers get a leg up on the competition and the audition process.
Additional benefits of DANCE-OPOLY's microsite include a surplus of fun: e-cards, dance trivia quiz, downloadable wallpaper, discount offers for purchasing the game, online video, voting poll and the Dance Teacher E-Z $10 Commission Club.
For more information, please visit http://www.danceworldgotgame.com.
For press and promotional inquiries, please contact:
Elizabeth Barry & Associates
Elizabeth Barry, President
201-217-6608
press @ EBandAssociates.com
http://www.EBandAssociates.com
ABOUT DANCE-OPOLY
DANCE-OPOLY is the first-ever board game for the dance world. During the summer of 2008, the game toured across the US to meet excited children, dancers and performers of all ages, with whom all fell in love with the "Fun Property Trading Game With a Twist." In an effort to spice up their marketing campaign for the 'new dance school year', DANCE-OPOLY owners, Dancer 4-Life Productions, Steve and Dana Notario, have launched this microsite to give younger audiences an interactive approach to the board game; learn about the history of dance, and share fun experiences with quizzes, polls and e-cards. There are prizes and surprises galore, and more to be announced soon. The first dance game of the industry proves that it is on top of its game. To purchase the game, please visit http://www.danceopoly.com.
###