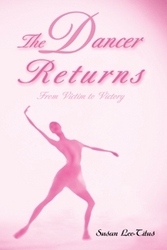 Washington, DC (Vocus) October 19, 2010
The Dancer Returns: From Victim to Victory (published by iUniverse) by Susan Lee-Titus is a survivor's tale of overcoming adversity and giving of oneself in an extraordinary way. In a candid, inspiring book, Lee-Titus communicates with gritty lyricism and delivers a tome brimming with intelligence, wit, compassion and a heart-felt belief in the human race.
Hers is an unimaginable story. Lee-Titus, a talented dancer is brutally attacked and raped inside a dance studio by two men with sawed off shotguns. Though she survives, she still has to pick her broken teeth up off the floor and re-start her life. What follows is an eight-year odyssey: a daunting physical, mental and spiritual journey. Spiraling into a world of fear and panic, she ends up in a psychiatric hospital where she is treated for Post-Traumatic Stress Disorder (PTSD).
With a breathtaking resolve, Lee-Titus decides to rebuild her life and while doing so, rebuild the lives around her. In her process of forgiving her attackers, she decides to help those on the other side of the law. She goes inside the prison system and begins teaching dance to a group of female inmates. The story culminates with an uplifting prison dance recital, a radiant scene that illustrates the resiliency of the human spirit.
Reminiscent of such films as The Blind Side and The Longest Yard, The Dancer Returns will have readers cheering as a traumatized victim transforms a group of long-forgotten inmates into dance performers.
The winner of the Autobiography/Memoir Category of the 2008 Next Generation Indie Book Awards, runner-up in the Inspirational Category of the 2008 Next Generation Indie Books Awards and an Editor's Choice Award recipient, The Dancer Returns tells the amazing story of how one woman travelled the road to forgiveness and paved the way for a parade of survivors to follow.
About the Author
Susan Lee-Titus was the first woman in America to begin an aerobic dance program for women convicted of violent crimes. Despite suffering from Post-Traumatic Stress Disorder, Lee-Titus summoned a renewed faith and used the power of forgiveness to start the Joy Dancers, an outreach program for teaching incarcerated women how to release their anger through the power of aerobic dance.
For more information, visit http://www.thedancerreturns.com.
iUniverse is a premier book publisher for emerging, self-published authors. For more information, please visit http://www.iuniverse.com.
###