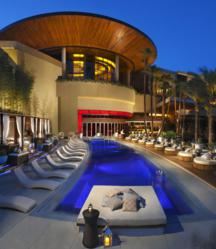 Excellent! The Best Conference EVER For Dance Teachers and Studio Owners
(PRWEB) April 09, 2013
For the 5th year in a row Dance Teacher Web Live will be in Las Vegas back at the beautiful Red Rock Resort and Spa July 26-29 2013. Dance teachers and studio owners from around the world will attend this one of a kind event!
The event will showcase over 100 unique movement classes and business seminars. Attendees can choose from the great lineup of classes offered in Ballet, Jazz, Contemporary, Modern, Tap, Afro, Partnering and much more! In addition the event offers a full line of business seminars for attendees looking to enhance their dance studio business. Topics covered will include ideas on management, hiring and firing practices, dealing with difficult customers and all the latest trends in marketing.
"Every year we have seen the Conference grow and this year will be our best one to date," says Conference producer Steve Sirico." We have a terrific list of Master teachers and business coaches that will make a big difference to any teacher or business owner" he adds.
Another unique benefit for dance teachers and studio owners is that the entire event is filmed. All attendees will be given a username and password to a secret website where they can view all of the material presented during the event. "Our attendees have told us that this is a great feature as it gives them months of inspiration long after the event is over," says producer Angela D'Valda Sirico
The Expo will highlight the best names in dance like Capezio, International Dance Supplies, Jump Dance Conventions and Costume Gallery. "The Expo will also be a great resource for dance teachers as they will have an opportunity to meet in person many of the top CEO's of some of the best names in dance products and services," says producer Angela D'Valda Sirico
Dance Teacher Web Live has been receiving rave reviews from attendees over the past five years. Just recently one attendee from California wrote "Excellent…The Best Conference EVER For Dance Teachers and Studio Owners!"
The Conference will kick off with the opening night party on Friday July 26th at 8:00pm. This is a great way for attendees to network and to have a wonderful and relaxing start to the event.
The 27th, 28th and 29th will be three full days of classes, seminars, special events and parties!
The Conference is offering an Early Bird discount of $100.00 off for those who register before May 15th. To register, visit Dance Teacher Web Live Registration
The Dance Teacher Web Live Conference & Expo has also secured a special attendee room rate of $115.00 per night. This special rate can be obtained by visiting the conference hotel information page.
About Dance Teacher Web:
Dance Teacher Web is the trusted online dance resource that deepens continuing education skills and fosters a positive community filled with motivation and support for dance studio owners and dance teachers. Through our unique Dance Teacher Web membership options, dance teachers and studio owners take their teacher training or business development to new heights from the comfort of their studio, home, or office. Members get 24-7 access and prolonged mentoring through articles, How-To videos, choreography, and business tips from our distinguished line-up of master teachers and business professionals eager to help. Our goal is to provide our members with instantaneous results. The Company launched the live event in 2009.