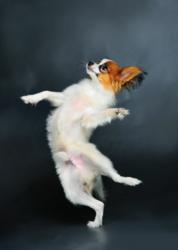 If just one of their fans is inspired to give a shelter dog a home, we've done our job.
Boca Raton, FL (PRWEB) September 21, 2012
ABC's Dancing with the Stars premieres its 15th season on Monday night. The hit show pairs celebrities, athletes and models with professional dancers in a ballroom dancing competition for judge's points and audience votes. The couple with the lowest combined score each week is eliminated until only the champion dance pair remains.
In its 15th season, Dancing with the Stars will bring back thirteen of the best dancers and fan favorites from the show's previous seasons to compete again.
While buzz of the popular dance competition surrounds the premiere, Dogington Post reported about the dancing celebrities for another reason – their dogs.
The popular dog news site announced a campaign that will use the dancers' dedication to their dogs and animal adoption to promote more dog adoptions to their fans.
This latest initiative is designed to encourage fans of the popular television show and the stars that compete in it, to follow their lead and adopt a homeless dog from a shelter. Dogington Post is featuring Dancing with the Stars' celebrity and professional dancers and their dogs in hopes that fans of the stars can look to them as role models for dog rescue efforts.
"Fans look up to these celebrities and dancers as role models," said Brandy Arnold, Content Editor for Dogington Post. "So while they're in the spotlight, we want to take the opportunity to show the world how much their dog means to them. If just one of their fans is inspired to give a shelter dog a home, we've done our job."
Dogington Post reaches over 2.6 million dog lovers each week. The site has included features about the Dancing with the Stars cast and their dogs, including Karina Smirnoff and her rescue pit bull, Randy; Kirstie Alley and her Corgi, May; and Derek Hough with his pup, EyBoi.
The popular dog news site also published articles about finding the perfect dog to adopt; what kind of dog is right for you; and – for those dog lovers who want to do more than just watch on television – how to dance with your dog!
For more information about Dogington Post and their effort to support dog adoption, visit http://dogingtonpost.com and check them out on YouTube.
About Dogington Post:
DogingtonPost.com was created for the love of dogs. It promises a forum of informative articles, newsworthy dog stories, health and breed information, and heartwarming videos. The site addresses current issues affecting dogs and their human parents – from serious health concerns to lifestyle issues on feeding, grooming and the overall well-being and mental health of dogs. It is the Internet newspaper, all about dogs.