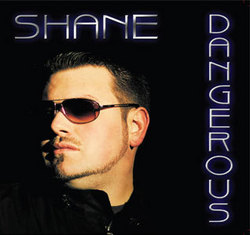 What is happening to the essence of today's music
San Francisco, CA (PRWEB) February 3, 2009
California singer-songwriter Shane Anderson is blazing a trail as the hottest up and coming artist of 2009. Shane's break out CD is solid with amazing songwriting and highly explosive delivery from his self debut album, "Dangerous ". Shane proves he plans to be a permanent fixture within the music industry for a very long time. Whether you like R&B, Club, Hip Hop, Pop, Dance or Soul this CD will be sure to feed your appetite.
From the heavy hitting drum bashing explosion of the club anthem Dangerous , to the story of what went .....Wrong, to the velvety smooth vocal styling of February , that leaves you longing for more. This album is sure to please even the most critical hip hop and urban music heads. This CD has enough crossover sensibility to appeal to all popular music fans world wide. You can feel the force of each lyric as it streams toward you.
Shane is often compared to R&B/Pop artists such as Ne-Yo and Chris Brown. Shane's vocals have been described as rich, earthy and soulful with influences that include Ne-yo, Chris Brown, Usher, Ryan Leslie, Justin Timberlake, Tank, Tyrese, Dwele, Musiq Soulchild and many, many more. Shane adds a much needed fresh style, all his own.
The album's tracks were graced by the production skills of Team Green, Oak, Xcluzive, Big "Al" Frasier, So For Real, Feenx Beatz and Drew. During the production phase of this CD, Shane worked with industry heavyweights who have produced and recorded with music billboard acts such as Ne-Yo , Chris Brown, Lloyd, Jennifer Lopez, Sterling Simms, Mario, Shawty Redd and many more.
Industry veterans describe Shane as a sincerely gifted song-writer with a singing voice thick with soul and passion. Shane's songs are truly timeless, classics of lyrics and melodies that sound as relevant today as they will be twenty years from now. Shane has created lyrics with deep, heartfelt soulful rhythms and catchy anthems.
When Shane was asked, "What is happening to the essence of today's music"? Shane replied "Some of today's music has gone in the direction of quantity over quality and substance ". "I wanted to create music that still delivers the ear candy to the audience but with a renewed focus of lyrics and songwriting. I believe that's what sets my music apart!" "I am striving to be an artist with longevity and creativity and I know that this album reflects that."
Shane's tracks have shown early signs of success through various online social networking mega sites where Shane's songs have reached over 1,500,000 plays. This also holds true as Shane's plays continue to grow at a screaming pace. Shane's popularity grows as his CD "Dangerous" continues getting global attention via the internet. Type in Shane Anderson, "Dangerous" online and you will see the explosion of interest that this CD is attracting.
A testimony by one of Shane's many fans said "I have listened to these digital down loads of Shane's songs over 30 times and can not get enough. I look forward to being able to purchase the CD being released the beginning of February". The fan went on to say "Its one thing listening to Shane's songs on your Ipod and that's cool......its just another complete experience being able to touch the CD and listen to it on the on the way to work ". We could not agree more!
Shane Anderson's CD "Dangerous" is available by Unique Productions Entertainment Group and is now available worldwide online through CD Baby, iTunes, Snocap, Napster just to name a few. Experience for yourself this unique and talented artist, Shane Anderson. Purchase Shane's CD at Shane's official artist site, MRANDERSONMUSIC.COM today.
###