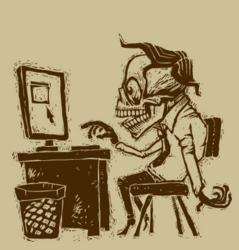 Individuals that are 45 years and older who spend more than 11 hours sitting per day have a 40 percent higher likelihood of death in the next three years
Los Angeles, CA (PRWEB) July 19, 2012
Generally, people who work a typical nine to five job spend nearly all of those hours seated, an estimate that doesn't take into account any additional time spent sitting during their commute and/or free time. Sitting for extended periods of time can lead to weight gain or even early death, according to a Study published last month in the Archives of Internal Medicine and confirmed by Shahram Salimitari, a Los Angeles LAP-BAND surgeon.
"Most people in nine to five jobs are sitting all day, and many of them live sedentary lives even outside their everyday jobs," said Dr. Salimitari. "All of this sitting without exercise has consequences, including weight gain."
The Australian Study, "Sitting Time and All-Cause Mortality Risk," has a simple conclusion: too much sitting leads to an earlier death. In fact, the study found that individuals that are 45 years and older who spend more than 11 hours sitting per day have a 40 percent higher likelihood of death in the next three years than those who sit less than four hours a day.
Rather than sitting in the office for eight hours straight, even simple movements such as taking a quick break every other hour to stand up and walk around can be beneficial, experts say.
Excessive sitting time can lead to weight gain because the metabolism slows, increasing fats in the bloodstream and lowering good cholesterol, said fitness expert and award-winning author of "Is Your Chair Killing You?", Kent Burden.
During extended periods of sitting, insulin effectiveness drops and the chance of developing obesity rises, said Burden, as enzymes responsible for breaking down lipids and triglycerides plunge and levels of good cholesterol fall. Burden added that the resulting gain in an individual's weight can lead to serious metabolic diseases such as diabetes and heart disease.
"Getting out of your chair or off the couch and being more active over the course of the day can help in your weight loss battle," said Burden. "Standing burns 60 more calories an hour than simply sitting. That may not sound like a lot, but if you sit for 10 hours a day - and between our daily commute, desk time then TV time many of us do - that's 600 calories, about what you would burn in a 5 mile jog."
Spending too much time sitting, even if you exercise after work, may not be the solution, said Marc Hamilton, an inactivity researcher at the Pennington Biomedical Research Center. Sitting for hours on end turns on many hazardous processes in the body, Hamilton said. Consequences include negative impacts on the way hundreds of genes in the body work, raising the risk of heart attack, diabetes, obesity and even some cancers.
"The goal in preventing the unhealthy effects of sedentary lifestyles is not to think about how many calories you burn or how many steps you take, but that the body cares more about how many hours each day you spend physically sedentary," Hamilton said.
Some companies are making it their business to find ways make ordinary desk work less sedentary. Fitdesk, a Nashville Tennessee-based company, produces a stationary bike with a work surface for a laptop computer and a combined treadmill/work station that was designed by endocrinologist Dr. James Levine of the Mayo Clinic is also available. Several companies have designed "vertical workstations," which are now being offered by several companies including Walk N Work, Airdesk Laptop Stand and Steelcase Workstation.
Experts agree that extended sitting time is hazardous to health apart from physical activity levels. Focusing on reducing the time spent sitting and increasing physical activity may not only help with weight loss and management, but it also may help to prolong life.