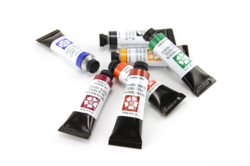 "My best advice, trust the process and enjoy the adventure in learning and exploring the wonders of watercolor!"
–Kay Barnes, Accomplished International Watercolor Workshop Instructor
Seattle, WA (PRWEB) May 10, 2013
Daniel Smith has been a constant for many artists; while their styles and inspiration have changed, the same quality art supplies provided by Daniel Smith have kept artists performing at a high level. Along with many of the old favorites and watercolor paint staples, Daniel Smith has taken advantage of their new catalog to introduce some new and exciting products to their loyal catalog subscribers. Artists may see these innovative products and read a comprehensive summary on their individual merits. The 2013 Summer Catalog is also a great way for new artists to become familiar with the art supplies they'll need to make good on their inspiration, imagination, and ability.
Artists interested in Daniel Smith's new merchandise or investigating their entire line of supplies may order a catalog from the Daniel Smith website to be delivered right to their door. By simply giving Daniel Smith their name, address and email address, painters may receive their own copy of the Summer Catalog detailing everything they need to make their projects a success. Daniel Smith does not sell or share customer information to other companies or individuals, and respects their customer's confidential information by operating a secure website. Daniel Smith hopes to create a positive online experience for artistic consumers with a demand for reasonably priced quality art supplies.
By requesting a Daniel Smith 2013 Summer Catalog, artists may find the fine art supplies ambitious artists need, brand new art supplies that could become integral pieces of their setup in the future, and the capability of ordering these art supplies right from their own home. One such product is the extremely high quality Masterpiece Canvas created especially for Daniel Smith. This canvas is only available while supplies last. Artists and painters alike are urged to act on this special occasion, and receive their own personal Summer Catalog as to not miss out on exciting opportunities such as the Masterpiece Canvas from Daniel Smith. Everything from acrylic paints to drawing paper is just a phone call or click away when browsing through the Summer Catalog. To obtain a 2013 Summer Catalog or to find out more about the inventory and new products of a leading supplier of art supplies, please visit Daniel Smith's website.
###
Daniel Smith Fine Artists' Materials is a leading merchant of art supplies. In addition to manufacturing their own superior-quality lines of watercolors, acrylics, oil paints and printmaking inks, they also distribute a wide variety of other premium supplies for artists of all disciplines. Daniel Smith's products are available through their mail-order catalog and website danielsmith.com, and locally at their retail store locations in Seattle and Bellevue, Washington.