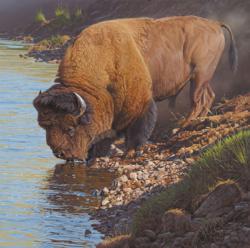 San Francisco Bay Area, CA (PRWEB) September 27, 2011
Renowned custom conservation framing company and art gallery, World Wide Art, Inc., is pleased to announce the availability of Daniel Smith's latest piece, titled "Lamar Libations."
As one of the foremost wildlife artists in the United States, Smith's paintings are roused by his deeply held indebtedness to the natural and wild world around him. "Lamar Libations" was created based on his personal experiences of observing wildlife, having been in close proximity to the majestic and mysterious creatures of his homeland in southwest Montana and other distinct locations around the world.
"World-Wide-Art.com is pleased to feature this admired piece by Daniel Smith," said David Wilfong, spokesperson for World Wide Art. "This painting is another colorful example of the pure wonder so many people have for the natural beauty of the creatures of our land. Smith inspires us through the natural environments that exist, and World Wide Art is pleased to offer great pieces that do just that."
Smith's painting captures a giant bison drinking water from the Lamar River in a valley of the northeastern corner of Yellowstone National Park. The area is home to many bison and other native animals, and is a popular wildlife observing destination.
Painted deliberately to capture the contrast between the intimidating nature of the giant bison and its relaxed and unassuming state while simply quenching its thirst, Smith conveys the dichotomy in a perfect way.
With brush strokes so detailed and delicate that almost every strand of the bison's fur is visible, Smith's multi-award winning talent creates a realistic and almost photographic sense. This wonderment is made deeper by sunny golden hues and the blue sky reflected on the water, which further accentuates the bison's daunting disposition.
"This painting offers natural inspiration of the wild, yet the gentle beauty of the creatures of our world," said Wilfong. "That sense of stirring comes through so eloquently in Smith's work and is a hallmark of his success. World Wide Art is proud to offer artwork that moves people artistically, as we strive to provide to the public ways to express themselves with timeless and stimulating pieces for not only that perfect display over the fireplace, but which also serve as a reflection of what is inside of them."
Daniel Smith has used his artistic talent and passion for wildlife to aid and endorse a number of conservation efforts. Many of his works are permanent displays in wildlife museums and art centers across the United States.
In addition to Smith's "Lamar Libations" painting, World Wide Art offers numerous other esteemed new releases, limited editions and honored collections by today's top artists. For more information, visit http://www.world-wide-art.com.
###