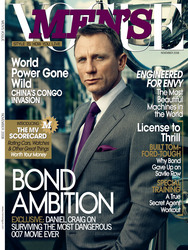 It's such a bad look. It's like a midlife crisis: 'Okay, I'll jump out of that. On fire? Yes, let's do it!'
(PRWEB) October 23, 2008
In the November issue of Men's Vogue, Daniel Craig, 40, describes trying to survive the physical toll of his latest James Bond. In preparation for Quantum of Solace, in theaters November 14, he wanted to be fit enough to absorb the daily battering the role entailed. Men's Vogue writer Kevin Conley noticed a visibly slimmer silhouette upon meeting Craig, who confirms this notion: "Because I went for shape and size for the last film, I wasn't heart-fit. So that's what I did on this one. I just wanted to survive the movie." Craig managed to walk off the set eight stitches richer and one lopped off fingertip poorer:
Conley reminded him that he'd taken on Bond at a point his life when most professional stuntmen begin to disengage from heavier work: "I know," he responds. "It's such a bad look. It's like a midlife crisis: 'Okay, I'll jump out of that. On fire? Yes, let's do it!'"
On his current work-out regimen: "The regimen's over. That's what the regimen is at the moment." He pulled out his cell phone, thumbed through the texts. "Let's see...I got a message earlier from my trainer: 'What are you doing today?'" Craig immediately snapped the cell shut and tossed it over his shoulder without a glance. "Nothing. Today I'm doing nothing."
Craig also stars in the upcoming historical rouser Defiance where Craig's character leads a makeshift group of Jews hiding from the Nazis in the forests of Belorussia. Director Edward Zwick says of Craig's career: "It's choices, finally, that define a career. The careers that you could point to - Tom Hanks or Denzel or Leonardo - these actors are very aware of what roles might reveal a different facet that has not been revealed to an audience before. So Daniel's decision to do this movie in tandem with Bond, because they will be viewed within weeks of each other, makes a very clear statement about his intentions and ambitions. It's as if he's saying, 'Don't presume to know me too quickly.'"
Defiance costar Live Schreiber recalls an instance of spontaneous warmth that set the tone for his relationship with Craig:
"It was my first day in Lithuania, and I'm thinking: 'Here I am in another Eastern-bloc European country for God knows how long. The food's going to be terrible, and what's this strange hotel I'm in?' I'm walking across a courtyard and I hear this very enthusiastic voice say my name. And it's Daniel Craig. And he comes across the courtyard and gives me this huge bear hug."
For more on Daniel Craig, Quantum of Solace and Defiance, visit: http://www.mensvogue.com/arts/movies/articles/2008/11/daniel-craig
###