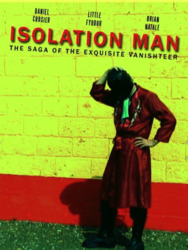 Daniel Crosier & Crazy Horse Studios Unite To Create Laughs About A Sad Catastrophe In The Film 'Isolation Man.'
Denver, CO (PRWEB) May 15, 2012
After a near death experience due to a lifetime bout with chronic asthma and allergies in his early 20's, Daniel Crosier launched into his art/film career with unyielding vigor and tenacity.
Crosier has exploded onto the comic book scene in the last couple of years. Illustrating and writing multiple nationally-published comic book projects such as "Vincent Price Presents" and "Bartholomew of the Scissors," Crosier's wood-burned illustration technique has the industry taking note. He was recently featured on the Travel Channel's new hit series, "Making Monsters" with his comic book "Distortions Unlimited."
In his newest venture, Crosier has teamed up with Crazy Horse Studios to produce the micro-budget feature film "Isolation Man." The film is a mockumentary directed by Crosier and Dane Bernhardt, based on Crosier's original comic book character the Exquisite Vanishteer. The Vanishteer is also performed by Crosier, with supporting performances by Brian Natale, Elijah Allan Cutler, Little Fyodor, Dick Black, and many other Denver-based talents.
The Exquisite Vanishteer is a superhero unparalleled in power. He has the ability to vanish any object; he just doesn't have the ability to bring it or them back.
After an unfortunate chain of circumstances occur that cause him to accidentally vanish the entire population of the Western Hemisphere, the Vanishteer faces a gauntlet of interviews conducted by concerned foreign interests. Determined to document and assess the hapless and arguably mentally-impaired superhuman responsible for the terrible incident now know as the "Great Vanishing," the investigators soon learn they are in for much more than they bargained for.
Principle photography has been completed and minimal funds are needed to finish the project.
To find out more about the film and see additional clips, visit http://crazyhorsestudios.com/Isolation%20Man/index.html
To contribute to the film visit http://www.indiegogo.com/IsoMan.