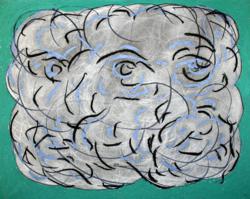 I'm consolidating what I can express through paint and marrying it to a darker sense of self.
Englewood, NJ (PRWEB) February 13, 2013
One River Gallery will present "Paint Work", the first solo exhibition of new work by Brooklyn-based artist Daniel Rios Rodriguez, from March 1 through April 14, 2013.
"Rodriguez's artwork represents biographical experiences that are translated onto canvas through a personal visual vocabulary," says Matt Ross, owner of One River Gallery. "Rather than depict static moments, he imagines himself as a variety of shifting images that allude to changes in both physical and emotional states. These changes are supported by moments of collaged linen and fabric on each canvas, making evident Rodriguez's concern with the material nature of painting. It's through this layering process that the under-painting and initial raw materials are reawakened to recover a more naked state in the painting's history. The extraction of paint through drawing onto its wet surface serves as an opportunity for Daniel to reveal his shifting imagery with greater depth and emotion."
"Paint Work" is a departure for Rodriguez in both the scale and tone. "While my previous work exuded a moody sense of humor," Rodriguez explains, "I'm now consolidating what I know and can express through paint and marrying it to a darker sense of self."
Daniel received a BFA from the University of Illinois in Chicago in 2005 and his MFA from the Yale School of Art in 2007. He was recently featured at White Columns Gallery in Manhattan in their White Room project space and also at last year's NADA show, New American Paintings exhibit in New York, and Independent Art Fair in New York. Daniel's paintings, which have been compared to works by Francis Picabia, Paul Klee, and Pablo Picasso, have appeared in group shows throughout the United States and in Europe.
"Paint Work" will be presented at One River Gallery, 49 N.Dean Street, in Englewood, NJ. An opening reception will be held on Friday, March 1 from 6:30 to 9:30PM, and the exhibition will run from March 1 through April 14, 2013.