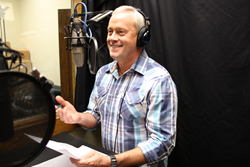 Expanding our radio platform translates into more listeners having access to quality information to improve their homes. - Danny Lipford
Mobile, AL (PRWEB) February 18, 2015
The fastest growing home improvement radio brand in the country, Today's Homeowner with Danny Lipford, has added Cox Cable Network markets to expand its broadcast platform on several new stations, including two top-20 markets: Phoenix (14) and San Diego (17).
Cox Cable Network stations began broadcasting National Home Improvement Expert Danny Lipford's "Tips for Today's Homeowner" in Phoenix, San Diego, Santa Barbara, Las Vegas, and Tucson on February 9, 2015. These 90-second segments include Danny's original and expert advice on home related matters from how to repair a stripped screw to choosing the right tools and materials for your next home improvement project. Danny's advice is now available to millions of Cox subscribing households, airing Monday through Friday from 10 am-noon PST and Sundays 8-10 am PST during "Sports Byline USA" programming on the following cable radio channels and affiliated websites:

Las Vegas Cox Cable Radio Network Channel 952
Phoenix Cox Cable Radio Network Channel 992
San Diego Cox Cable Radio Network Channel 971
Santa Barbara Cox Cable Network Channel 962
Tucson Cox Cable Radio Network Channel 992
Danny Lipford comments, "We are excited to share our Tips for Today's Homeowner with a new audience through these Cox digital network markets. Expanding our radio platform translates into more listeners having access to quality information to improve their homes." Recent affiliate activity also includes two major news/talk stations in New Orleans (WRNO-FM) and Baton Rouge (WJBO-AM) adding Lipford's Today's Homeowner two-hour radio show to their weekly line-up.
"Tips for Today's Homeowner," along with the weekly two-hour, nationally syndicated "Today's Homeowner with Danny Lipford" program comprise the home improvement brand's radio platform. In addition to the radio programs, the Today's Homeowner brand consists of the Emmy-nominated, nationally syndicated TV program and the home improvement destination website, TodaysHomeowner.com.
As a contractor for 36 years, Danny Lipford is one of the most respected and sought-after names in the home improvement industry today. He has made more than 160 national television appearances on shows such as Rachael Ray, LIVE with Regis & Kelly, CNN's Your Bottom Line, CBS's The Early Show and This Morning, and is a regular on Fox Business Channel's The Willis Report. Lipford has been the home improvement expert for The Weather Channel for over a decade, a longtime contributor to Better Homes & Gardens Magazine and BHG.com, and is a source for hundreds of other popular magazines and websites each year.
To find out more about Today's Homeowner with Danny Lipford, contact Stephanie Greenwood, Public Relations Manager, at (251) 478-3345 x110 or stephanie(at)dannylipford(dot)com.