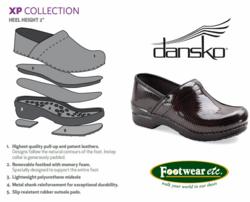 We constantly hear how comfortable their Danskos are for standing all day. I know our customers will love all of the new Dansko styles and colors for this Spring and Summer.
Sunnyvale, CA (PRWEB) February 22, 2013
Footwear etc. is pleased to announce that it has received the Spring 2013 Collection of Dansko Clogs, Shoes and Sandals. Dansko footwear has historically sold well and the new Spring 2013 collection is predicted to do the same. Loyal Dansko customers can look forward to a wide variety of styles from which to choose. Known for its outstanding support and comfort, Dansko continues to please customers with both casual and dressier shoes.
Dansko shoes are designed to offer the greatest amount of support possible, so that you can withstand long hours on your feet with minimal strain on your feet, legs, and back. With multiple layers to the soles in each collection, these shoes provide cushioning, shock absorption, support, breathability, and even energy return from the mild rocker. Several of the collections, such as the Dansko Professional and Dansko Pro XP, carry the Seal of Acceptance from the American Podiatric Medical Association. Many models are recommended by podiatrists to help relieve pain from foot conditions such as Plantar Fasciitis and Heel Pain.
Sales Manager Andrew Monarch adds, "We love hearing positive stories from our Dansko customers. We constantly hear how comfortable their Danskos are for standing all day. I know our customers will love all of the new Dansko styles and colors for this Spring and Summer."
New Dansko clogs include the women's Dansko Victoria. Available in Tahiti canvas with jute-wrapped soles, this clog is perfect for the summertime. A casual Mary Jane is the women's Dansko Emmy. With its suede and neoprene upper and slip-resistant outsole, this shoe is suitable for casual or even hospital settings. The women's Dansko Donna is a beautiful slide adorned with flower detailing. Its dual straps make this slide adjustable for a custom fit. The women's Dansko Jess is an extremely versatile sandal that is dressy enough to go from daytime to wear to evening wear due to its metallic, patent and nappa leathers and button embellishments. The Dansko's flagship model, the Dansko Professional Clog, now comes in a highly-embellished Taupe Arabesque Leather.
Another new model is the Dansko Pro XP. It has all the wonderful feathers of the Professional, but with a slip-resistant outsole. There is also memory foam in its removable footbed. It's available in a variety of colors, including Pastel Bouquet Patent Leather.
There are also choices for kids. The Dansko Gitte is a clog similar to the Dansko Professional, in a variety of colors (including Bubblegum Patent Leather and Cherry Patent Leather). The Dansko Jamie is a Mary Jane with some punched out heart detailing and loads of support.
Look for the entire Dansko collection from Footwear etc. online at http://www.footwearetc.com/Dansko and at their retail store locations in Northern California and San Diego.
About Footwear etc.:
Footwear etc. is a well-established, family-owned business, headquartered in Silicon Valley, CA since 1986. The company is committed to improving customers' quality of life by offering brand name products that demonstrate their belief in the need for healthful, comfortable and fashionable footwear. Footwear etc. operates nine retail stores located throughout the Bay Area and San Diego, and also offers their products on their website and catalog. To find out more, please visit http://www.footwearetc.com.