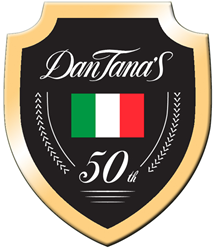 Amid LA's mere handful of long running establishments, Dan Tana's has discretely held its turf as one of "Hollywood's" most popular haunts.
Los Angeles, CA (PRWEB) September 10, 2014
Iconic West Hollywood restaurant Dan Tana's celebrates its 50th Anniversary this October. Amid LA's mere handful of long-running establishments, Dan Tana's has discretely held its turf as one of "Hollywood's" most popular haunts. Aptly characterized as a hideaway, the crowded, dimly lit restaurant has maintained its low profile despite a loyal following of studio heads, major producers, agents, athletes, rock stars and acclaimed actors of both Hollywood's old and new guard.
"We never drop names. Besides, we treat everyone like a VIP," comments one jacketed waiter, who, like most of the staff, has been with the restaurant for decades. "The sons and daughters of many of our first customers -- and even their kids – are here every week," adds Michael Gotovac, the restaurant's head bartender who has been slinging cocktails there for the past 47 years. Gotovac doesn't mention these generations include people whose mantles are cluttered with golden trophies, statuettes and gramophones as well as the savvy dealmakers behind such luminaries. At Dan Tana's, such legends sit elbow-to-elbow with neighborhood regulars and folks just looking to indulge in food, drink and a 7 nights-a-week social scene. It is this blend of movers & shakers, artists (famous and struggling) and local characters, all bottled within the confines of a sanguine red interior laden with memorabilia that create Dan Tana's rare vintage.
The 50th Anniversary will be marked by an invitation-only celebration on October 1 taking place at the restaurant and its surrounding outdoor property. Embracing the restaurant's indelible atmosphere, the event will be decked in Dan Tana red with strung chianti bottles, live music and, of course, abundant Italian dishes served up by Chef Neno Mladenovic who has run the combat zone that is Dan Tana's kitchen for the past 27 years. The County of Los Angeles and the City of West Hollywood will recognize this momentous occasion with special commendations. "Dan Tana's is one-of-a-kind. Its colorful history, festive spirit and ties to the creative world represent an important dimension of what makes West Hollywood unique," adds West Hollywood Mayor John D'Amico.
To further celebrate this landmark anniversary, Dan Tana's has commissioned an original artwork by artist Andrea Tana to capture the iconic interior and vibrant energy that characterize a night at the restaurant. A limited edition of only twenty-five (25) fine art, giclée prints of the original work are available to the first bidders starting September 10 (minimum bid is $1000). All funds raised will benefit St. Jude Children's Research Hospital. "We are delighted to support St. Jude," comments Dan Tana's owner, Sonja Perencevic. "We believe this beautiful work and our generous clientele will help further the difference St. Jude makes in so many families' lives." Born in Los Angeles, the artist played an integral part in the restaurant's rise to success. Her paintings were part of the restaurant's earliest décor (some still hang there now). Tana's work has been further exhibited throughout the US and Europe, including London where the Victoria & Albert Museum acquired her series, Kimono Suites in 1982. "Working on the 50th Anniversary piece brought back many memories I will always treasure," says Tana. Awash in characteristic reds, the work depicts the chaotic clockwork of the main dining room and bar in full swing. Looking closely, one can even make out Michael the bartender's mustache. To get first dibs on one of the 50th Anniversary prints, email DT50Art@gmail.com.
Above all, on its 50th Anniversary, the restaurant celebrates its loyal patrons -- the cast and the characters, famous and aspiring -- who have built Tana's storied past and who are making its history today. Yet, even as the nightly party rages on behind its single, narrow door, Dan Tana's remains a little, yellow clapboard abode, sitting charmingly quiet on Santa Monica Boulevard, under a lucky horseshoe sign.
Photos available at http://www.bit.ly/DT50th
Media inquiries: contact Kevin Mark Lodie at kml(at)diversifiedluxury(dot)com.
###
A BRIEF HISTORY:
Located in the heart of what is now West Hollywood, the original building and first restaurant were built in 1938 on the former site of a wartime victory garden. The venue was Black's Lucky Spot Café -- a counter-style lunch joint with a horseshoe-shaped sign displaying its name. The bulk of business came from bands of workers doing maintenance on the old Pacific Electric Red Car Trolley that ran out front along Santa Monica Boulevard (spikes from the original railroad ties are framed on the restaurant's wall). Over the next few years, ownership changed hands between loyal employees and relatives. Black's became "Domenico's Lucky Spot," and then just "Dominic's" until 1964, when Dan Tana hung his own shingle.
Tana, former soccer star from then Yugoslavia began his restaurant career in 1957 as a dishwasher at Micelli's restaurant on North Las Palmas Avenue in Hollywood. Good looking and charming, he quickly took the podium as maître d' at Hollywood hotspots like Villa Capri and La Scala. The move to open his own restaurant was a big gamble, hedged only by Tana's personal drive, contacts and magnetic personality. Once again, the venue's location played a role. On the perimeter of both affluent Beverly Hills and the modest "Norma Triangle" neighborhood, and just a few doors down from the Troubadour and its burgeoning 60's rock scene, Tana's was poised to attract a diverse cross section of L.A. society and subculture, but business was painfully slow and often on the brink of going bankrupt.
Like any great Hollywood story, there was a critical turning point. On a Friday night in 1976, business was less than booming – not a single reservation. The only patrons were a party of six at the bar that didn't even know the place served food. Although the restaurant was in no position to dish out freebees, Dan asked the chef to send them a few appetizers, hoping they'd stay and order more. The party, a group of journalists, gladly scarfed up a few plates of stuffed mushrooms, but soon left for a screening at the Academy Theater that was then across the street by Melrose and Doheny. Tana left for the night. But after the screening, the group came back for dinner. And a few days later, one of those journalists raved about the restaurant in the Sunday edition of one of LA's biggest newspapers. "The Monday after that article -- a Monday -- we did 250 dinners. Ten times more than what we were used to!" recounts Tana. "Every single night after that we were constantly busy. We had to hire a lot more staff, fast, because all we had were two waiters and one bartender!"
In the midst of this success, Tana received a phone call in the wee hours of August 1, 1980. A fire had burned down almost the entire restaurant. Loyal patrons rallied to support the rebuild, including Linda Ronstadt who called in from New York where she was starring in Pirates of the Penance on Broadway. When she learned that the biggest hurdleTana faced was a delay of at least two-months just to get pre-building permits approved by the city, she asked her boyfriend, then and now Governor Jerry Brown what he could do. The next day when Tana visited City Hall, the project was approved. "Thanks to Linda and Governor Brown, in only six weeks we were open again," recalls a still grateful Tana.
The restaurant's business continued to thrive. Its staff and management first regard Dan Tana's as a restaurant where people enjoy good times and where the customers define the restaurant's character and success.
Other events seal its place in history. Dan Tana's has been referenced in several Hollywood memoirs and films and provided the setting for numerous celebrity editorials. Down the street from the Troubadour, it was and still is frequented by the artists who performed there -- The Mamas and the Papas, Simon & Garfunkle, Bill Cosby, Elton John, Rod Stewart, Drake, and Maroon Five (one of their Gold Records is mounted on the restaurant's cluttered walls) among others. It was a favorite of Frank Sinatra and Dean Martin, and still is for Angie Dickinson and Don Rickles. Legendary agent Lew Wasserman struck more than a few deals ensconced in one of the ruby red booths as does his grandson, Casey, now. Liz Taylor and Richard Burton came often, sometimes together, sometimes not. Don Henley and Glen Frey scribbled out the lyrics to "Lyin' Eyes" while observing a tryst from the bar. James Woods and Steve Martin sat by Evel Knievel as the daredevil lit cigars with $50 bills. In 1978, producer Aaron Spelling named the lead character in his hit TV series Vega$, "Dan Tana" (played by Robert Urich). While Studio 54 partied through the disco era, a similar scene flourished at (and under) the restaurant's tables sans the mirrored-ball. Charlie's Angels of the 70's and the 2000's as well as the actors and real life inspiration for HBO's Entourage have enjoyed heaping plates of calamari fritti and Chicken alla Parmigiana. George Clooney chose the restaurant for his private, post-Oscar bash in 2006. Drew Barrymore has been a patron since she was in diapers, and media magnate Sumner Redstone has cited Dan Tana's as his favorite restaurant worldwide.
#DanTanas
#DanTanas50th
#VintageLosAngeles
#StJudeChildrensResearchHospital
# # #