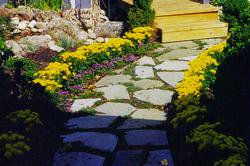 San Francisco, CA (PRWEB) February 17, 2012
A front yard landscape design is an essential part of a beautiful, appealing, and unique home. The design of a front yard enhances curb appeal and displays a homeowner's personal tastes. However, many homeowners forget an important aspect of the design that goes hand in hand with the landscape – the hardscape design.
"Driveways, walkways, patios, stoops, retaining walls, water features, and other stone accessories are just as important as the landscaping itself," says Jeff Ferrasci, owner of Custom Landscape. "These hardscape elements not only provide parking, walkways, and sitting areas but also give shape and structure to a yard and interact with organic components in interesting ways. The right hardscape design can absolutely make a front yard."
Here are a few ways to use hardscape to create a stylish and one-of-a-kind yard:
Driveways and Walkways
Options are limitless when it comes to driveways and walkways. Pavers have taken the landscape world by storm for their classy look and durability. The three main categories of pavers include brick, concrete, and natural stone. Decorative and ornamental concrete offer even more choices and include stamped concrete, colored concrete, exposed aggregate with brick bands, and sand finish. Lining the concrete with bricks can give driveways and walkways a classic and timeless look. To add more visual interest, try using stepping stones as a pathway through various parts of the yard.
Water features
Water features, such as waterfalls and ponds, can make beautiful additions to any landscape. Not only do water features look beautiful and inviting but they also offer soothing sounds.
Courtyards, patios, terraces, and gazebos
Don't forget the possibility of installing outdoor rooms in a front yard area. A patio, gazebo, terrace, or courtyard can provide a secluded area for relaxing and entertaining. Even if a homeowner doesn't have a large yard, hardscape or stucco seat walls with stone caps can be used to create small seating areas. Fire pits made from stucco and stone, brick, natural stone, or pavers make an outdoor area a great place to unwind in the evening.
Pay attention to small details, such as adding outdoor lighting, to create a unique front yard that enhances the beauty of a home. For the best results contact a professional that specializes in front yard landscape designs and installations. Custom Landscape specializes in hardscape design and has extensive experience in all aspects of landscape design and installation including concrete, masonry, irrigation, planting, ponds, spas, and garden structures. Owner Jeff Ferrasci has been a licensed landscape contractor since 1976 and is a devoted, hands-on contractor who is on-site each day to carry out a homeowner's vision. For more information, please visit their new website, http://www.jeffferrascicustomlandscape.com, or check out their profile on BuildZoom.
About Custom Landscape
Licensed, bonded and insured, Custom Landscape can take a homeowner's vision from design to completion. They have designed and built over 1000 projects in the most prestigious addresses in the country. Whether a homeowner needs grading, irrigation and planting or wants to add a spa, hardscape or outdoor lighting, Custom Landscape's professional masons, carpenters, and hardscape specialists possess a complete knowledge of local codes and design innovations guaranteed to make any project a success. They serve the Bay Area including Danville, Alamo, Lafayette, Walnut Creek, Orinda, Moraga, and Dublin.
###