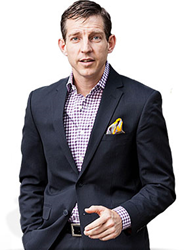 The only thing standing between you and outrageous success is continuous progress, and for progress, you need discipline.
Washington, D.C. (PRWEB) April 01, 2014
Dan Waldschmidt understands that you're tired of the same old self-help books that tell you to set goals, work hard, and never give up on your dreams. That's why he's introducing a new breed of self-help book, one that takes a deeper look at the timeless qualities shared by successful people. In Edgy Conversations: How Ordinary People Achieve Outrageous Success, which launches on April 2nd, readers learn how to bridge the gap between the successful individuals profiled within the book, and themselves.
Says Waldschmidt, "The only thing standing between you and outrageous success is continuous progress, and for progress, you need discipline." In fact, "discipline" is one of four main traits shared by those who are successful which are covered in the book. Each trait is symbolized by a letter in the word "edgy," which serves as both an eye-catching title and acronym. Along with the others letters that represent "extreme behavior," "giving," and, a "(y) human strategy," discipline will allow readers to tap in to their potential for greater success. After all, Edgy Conversations is especially for those people who are tired of working tirelessly to attain success and still coming no closer to achieving it.
Waldschmidt held several conference calls in the last month to discuss the qualities, and personally engage with those interested in achieving their highest potential. With his book and these conference calls, Waldschmidt aims to modify the beliefs and behaviors that are impediments to success.
Waldschmidt also stresses that simply following the rules of any self-help books won't get a person to where they want to be: "It's about confronting and fixing the beliefs and behaviors that limit your ability to be amazing." When the book becomes available on April 2nd, Waldschmidt is confident that he will soon be hearing the success stories of those who read, and are inspired by, Edgy Conversations.
Dan Waldschmidt
Dan Waldschmidt was born five weeks late and has been making up lost time ever since. He got a standard entry-level job right out of college, but then he changed the sales process, earned millions of dollars for the company, and became CEO by the time he was 25. Now he works primarily as a business strategist and speaker. Dan and his team help companies all over the world arrive at business-changing breakthrough ideas by moving past outdated conventional wisdom, social peer pressure, and the selfish behaviors that stop them from being high performers. The Wall Street Journal calls his blog, Edgy Conversations, one of the Top 7 sales blogs anywhere on the internet. He's been profiled in Business Week, INC Magazine, Business Insider, and on dozens of radio programs. Hundreds of his articles on unconventional business strategy have been published. Dan is also an avid runner.