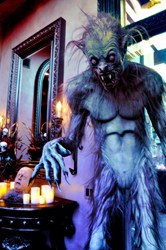 Los Angeles, CA (PRWEB) September 25, 2012
Having the spookiest Halloween party of the year is a hard-won title in some circles. Increasingly, high-profile Halloween party planners turn to Hollywood prop houses like Dapper Cadaver, which has provided frighteningly realistic horror props to film and TV productions like The Cabin in the Woods, House and Vampire Diaries. Private party planners and corporate event planners enjoy renting Halloween props because they gain access to higher quality props at a lower price point and do not need to worry about storage. Plus, Halloween party clients enjoy knowing that some of their props have been used on top TV shows and movies.
"I've noticed a few trends in how Halloween party decorators tend to use our props: mixing a couple of large props like our corpses or monsters into more typical Halloween decorations to really provide that wow factor, setting up photo ops with interactive props like our dungeon furniture, or using very realistic smaller props like lifecast skulls or specimen jars to really set the mood of a room," said BJ Winslow, co-owner and lead propmaker at Dapper Cadaver.
Although Halloween spending has been increasing in recent years according to the National Retail Federation, Halloween party clients are still price-conscious. Dapper Cadaver displays both retail and rental prices for the Halloween props on their website. Rental prices are a fraction of their retail price, especially when it comes to large props. For example, the nearly 7 foot tall Giant Werewolf retails for $2400 but rents for only $200 a week. Plus, the client does not have to pay to store it during the rest of the year. Dapper Cadaver also offers bulk discounts that make high quality props even more affordable. A client setting up a zombie or torture scene can rent 6 durable lifecast fake arms, legs, hands and feet for a week for $100 with the 6 Piece Limb Assortment.
Still, the joy in knowing that a celebrity once used the same Halloween prop is priceless. When a Halloween party client rents the Gloss Black Casket, they get the same prop that Kim Kardashian, Elijah Wood and many more celebrities posed in for the 2010 Digital Death campaign. On BJ Winslow's photo gallery, clients can see everyone from Ozzy Ozbourne to Nicki Minaj using Dapper Cadaver props. When a client comes into the store, Winslow loves to point out his favorite props, like the kjeldahl from the Breaking Bad pilot. Some of these stories have been featured on shows like the Travel Channel's Halloween Crazy. If a client wants a Halloween party that looks like the Halloween parties on popular TV shows, they are also in the right place. Dapper Cadaver has provided props for the Halloween episodes of Bones, Jesse and more, including confidential productions that are shooting right now.
About Dapper Cadaver
Dapper Cadaver is a death-related prop house and fabrication shop located in Los Angeles, Calif. Dapper Cadaver sells and rents the highest quality Halloween props, including prop skulls and skeletons, prop tombstones and monster props from top prop artists. It also manufacturers its own product lines, including Halloween corpses, fake body parts, butcher shop props and specimen jars. Dapper Cadaver provides props to thousands of film and TV productions, including Supernatural, Game of Thrones and Pirates of the Caribbean 4. Every year, it provides props to professional haunted houses and Halloween parties across the country. Clients include Six Flags Fright Fest, Halloween Horror Nights at Universal Studios and the Playboy Mansion. Dapper Cadaver has also served as a location for a number of shows including Halloween Crazy, Hot Set and Professor Weird. Dapper Cadaver ships nationwide and internationally. Please visit us online at http://www.dappercadaver.com.