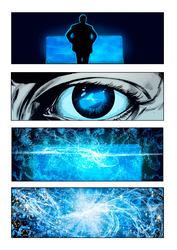 We've worked extremely hard to deliver a comic that is way out of the ordinary.
Beverly Hills, CA (PRWEB) December 3, 2009
Today, Dare Comics launches its new science fiction epic, Starmaker: Leviathan, on ITunes and Yudu.
Starmaker: Leviathan tells the story of Jacob Carter, and his efforts to expose a mind-blowing global conspiracy.
Writer and creator, Adam Hamdy, cannot wait for fans to see his new work. "I am very pleased to see Starmaker come to life. We've worked extremely hard to deliver a comic that is way out of the ordinary. If pre-production reviews are anything to go by I think we've achieved our objective," says Hamdy.
David Golding, the artist behind Dare Comics highly applauded first comic, The Hunter, has been brought over to Starmaker: Leviathan to inject his artistic genius into the work.
"David's art work was instrumental in making The Hunter's story so popular with fans. He has developed a new realistic style for Starmaker that has taken the art to another level," said Hamdy.
With comparisons already being drawn to some of Marvel Comics' best work, Dare is rapidly establishing a reputation for publishing quality comic books. With the success of The Hunter, there are high hopes for the publisher's second release.
Aint' It Cool News have awarded high praise to Dare Comic's first comic The Hunter and are expecting even more from Starmaker, saying: "The Hunter harkened back to Stan and Jack's best work at Marvel. Starmaker: Leviathan looks to be embracing some of the same concepts and I can't wait to see more of it."
Dare's distribution partner on ITunes is Panelfly. Panelfly Chief Executive Officer, Wade Slitkin, says, "Panelfly offers customers some of the world's most celebrated comics and we are thrilled to offer the next instalment in Dare Comics stable, Starmaker: Leviathan. Dare's publisher and creative force, Adam Hamdy, is making waves on the international comic scene, and is the one to watch for comic fans everywhere."
YUDU Store Marketing Manager, Chris Sheard, says "We are very excited about the release of Starmaker: Leviathan on the YUDU site today and expect it will do as well, if not better, than Dare Comics inaugural comic, The Hunter. We have been so impressed by customer interest in The Hunter that we are going to concentrate on growing our comic base in 2010 to make YUDU the place to come to for comics."
Starmaker: Leviathan promises to be one of the most exhilarating sci-fi epics ever.
Visit Dare Comics' website
ABOUT STARMAKER: LEVIATHAN
Created by the team behind The Hunter, Starmaker: Leviathan is a 425 page sci-fi epic that will be released in 21 monthly issues. Issue #1 is available on ITunes through PanelFly, and online through Yudu. Issue #2 will be available January 7th 2010. Print version available April 2010. Created and written by Adam Hamdy. Art by David Golding. Colors by Mark Roberts.
STARMAKER: LEVIATHAN. THE END IS JUST THE BEGINNING.
About DARE COMICS:
The Dare Comics label was founded in 2007 by British writer Adam Hamdy. An innovative company, Dare is keen to embrace the opportunities the Internet offers to reach out to a mass audience. With comparisons already being drawn to some of Marvel Comics' best work, Dare is rapidly establishing a reputation for producing high quality entertainment. Dare's first title, The Hunter, is currently being developed as a major motion picture.
Check out Dare Comics on Facebook
About ADAM HAMDY:
Adam Hamdy is a British screenwriter and publisher of one of the fastest growing comics of recent times. He is rapidly establishing an international reputation as a visionary creator for film, television and print, developing and bringing his own ideas to life through these various mediums. His exceptional creativity has already drawn comparisons with Stan Lee. Hamdy is represented by William Morris Endeavor Entertainment.
About DAVID GOLDING
After working in a comic store for five years, David Golding was convinced he had what it took to make it as a professional comic artist. Three years after quitting, Golding is working on his second comic series, Starmaker: Leviathan. His first long-form work, The Hunter, has become one of the fastest growing titles of recent years. With comparison's already being made to the legendary Jack Kirby, Golding is fast establishing his reputation as an artist. Golding has also worked as a character designer for the BBC, and teaches master-classes in how to draw comics.
# # #