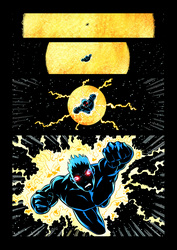 The Hunter comics blew me away. The series offers a very contemporary take on the superhero genre, and I'm excited about bringing the Hunter to life.
Beverly Hills, CA (PRWEB) April 14, 2010
Shane Abbess is attached to direct the feature film adaptation of Dare Comics' debut title, The Hunter.
Abbess is best known for his debut feature, Gabriel, an action fantasy that he wrote, directed and produced in a Herculean effort of indie film-making. Abbess has since become one of the most sought after directors in Hollywood with projects in development at a number of studios.
"Shane has a great reputation, but the reality of working with him surpasses it. Not only is he fantastic with action, he immediately understood how to get the best out of the Hunter universe and characters," said Dare Comics founder, Adam Hamdy. "It's very exciting to be working with such a talented director."
"The Hunter comics blew me away," said Shane Abbess. "The series offers a very contemporary take on the superhero genre, and I'm excited about bringing the Hunter to life. It's an extremely rare opportunity to be involved in the genesis of what should be a very significant franchise."
Hamdy and Abbess are collaborating closely, as Hamdy is also writing the screenplay. "Working so closely with the creator is a dream, everything's developing so quickly that the Hunter has become a real juggernaut," Abbess said.
"Shane and I have developed a very easy back and forth. He is a collaborative film-maker and has great vision. It's a real pleasure to work with him," Hamdy said.
Scarlet Fire producer, Steven Pearl, said, "Shane Abbess seemed like an obvious choice for the Hunter. He has a great feel for this kind of material, and we've been really pleased with the way the project has been developing since he came on board."
Hamdy is impressed with the way producers Scarlet Fire have handled the project. "Our shared objective is to get the Hunter into theaters as quickly as possible, and the team at Scarlet Fire has made all the right moves to ensure that happens."
About DARE COMICS:
The Dare Comics label was founded in 2007 by British writer Adam Hamdy. An innovative company, Dare is keen to embrace the opportunities the Internet offers to reach out to a mass audience. With comparisons already being drawn to some of Marvel Comics' best work, Dare is rapidly establishing a reputation for producing high quality entertainment. Dare's debut title, The Hunter, is currently being developed as a feature film, motion comic and video game. Dare's second title, Starmaker: Leviathan, is available to download through PanelFly and Yudu, with the print version due in stores in June 2010.
About SCARLET FIRE
Scarlet Fire Entertainment is a producing partnership between Allan Loeb and Steven Pearl, founded in 2006. In the short time since the company formed, Scarlet Fire has built an impressive resume, with a concentration on both film and television. Scarlet Fire currently has film projects set up at: Working Title (Universal), Mandate, Warner Bros., and Sony. Additionally, they are in an overall television deal with LIONSGATE TV Studios.
About THE HUNTER:
A contemporary superhero comic set against the backdrop of organized crime, The Hunter launched in 2007 to widespread critical acclaim. Using an innovative combination of print and online distribution, The Hunter has attracted a readership that rivals some of the leading comic titles in the world.
"BLEW MY SOCKS OFF!" Ain't It Cool News
"FIND IT, GRAB IT AND PAY ATTENTION TO WHATEVER THESE FOLKS DO NEXT."
Paperbackreader.com
###