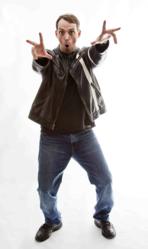 Daren Streblow makes me laugh until I can't breathe
(PRWEB) July 29, 2011
Despite the various forms of entertainment available today, many families continue to encounter difficulties when looking for something appropriate that they can enjoy together. That is about to change. Beginning this fall, The Daren Streblow Comedy Show will be hitting the radio airwaves bringing some much needed comic relief to families across the nation.
The Daren Streblow Comedy Show is an hour long weekly radio show hosted by comedian Daren Streblow. Executive producer Corey Irish says the show will feature a variety of guest comedians including Jeff Allen, Ken Davis, and Tim Hawkins. "The goal," says Irish, "is to offer clean, family-oriented fun in each show while broadcasting on both Christian and mainstream radio stations throughout the country."
Host and co-producer Daren Streblow says, "My desire for The Daren Streblow Comedy Show is to provide our audience a weekly vacation from the stresses and pressures of life -- giving them a recharge through laughter. I want our listening friends to enjoy a regular smorgasbord of laughs from some of the best comedians working today without worrying that the comedian will say something profane or crude."
The Grable Group is pleased to represent comedian and entertainer Daren Streblow. With over two decades of experience in the entertainment industry, Tim Grable has been privileged to work with organizations like Saddleback Church, Willow Creek Association, Group Publishing, Disney, Walmart, Coke-Cola, and The Salvation Army. Other clients include Taylor Mason, Bob Stromberg, Jeff Allen and Joe Castillo.
For more information on Daren Streblow please contact The Grable Group at 1-615-283-0039.
For more information regarding The Daren Streblow Comedy Show please contact Media Outfitters at 1.800.406.8882.
###