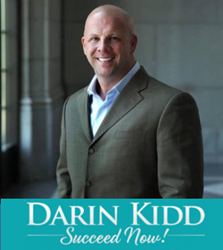 The benefit of being sponsored by a top leader and Millionaire Club Member in Nerium, assures you shave years off of your learning curve and achieve success without all the pitfalls
Appomattox, VA (PRWEB) May 04, 2016
Darin Kidd, a Five-Star National Marketing Director for Nerium International, recently announced that he will be sponsoring new distributors as Nerium expands into Japan, Colombia and Hong Kong this summer. The news came shortly after Nerium's annual conference, where Kidd was recognized for being a $2 Million Earner.
Nerium International, LLC, was created in 2011 by Founder and CEO Jeff Olson. The company's versatile product portfolio provides anti-aging solutions for the face, mind and body. Nerium has reached record-breaking sales and earned industry accolades while building a global customer base of millions in the U.S., Canada, Mexico, and South Korea, and is continuing to expand globally.
Embracing the expansion to Japan and beyond, Darin Kidd is looking forward to meeting individuals and network marketers who are eager to be personally sponsored and mentored by him. Plans are already underway with Darin to visit Japan, Colombia and Hong Kong this summer. He looks forward to sharing his experience in building international teams and continues to be very successful with Nerium's recent expansion into Canada and Mexico. "Darin's love and presence, as a speaker and trainer, has been greatly felt in Canada during its infancy. My husband, Bruce, and I selected Darin Kidd as our Nerium International sponsor because of his servant leadership, faith-filled heart, and work ethic," said Lisa T., a member of Kidd's team in Canada.
Kidd has built a following in the network marketing industry and has become one of the most sought after trainers in network marketing today. A testament to his mentorship, Kidd has become the #1 Network Marketing Trainer on Periscope and is quickly rising to the top using Facebook Live to train others on how to build their Network Marketing business as well.
"Around 18 years ago, after failing in multiple Network Marketing companies, I finally had the right mentors come into my life," stated Darin. "These mentors were instrumental in teaching me how to make Millions in the industry and create my dream lifestyle. The benefit of being sponsored by a top leader and Millionaire Club Member in Nerium, assures you shave years off of your learning curve and achieve success without all the pitfalls I experienced before Nerium. It is that experience I strive to deliver to others."
Kidd joined Nerium over 4 years ago and has become a Millionaire Club Member and leader within the company. He is a husband and father to five children. "I have found that 'Faith, Family, and Finance' are my priorities and my commitment to these priorities has been the foundation of my success," said Darin. "Anyone willing to do the work and to keep pushing themselves can have similar success. Those are the people I will be looking to work with in Japan, Columbia and Hong Kong."
To watch Darin's inspiring story click here.
About Darin Kidd
Darin Kidd is one of the most sought-after trainers in network marketing today. With his success as a 5-star National Marketing Director, Darin has quickly become one of Nerium International's top leaders and money earners. Having been in the industry for over 24 years, Darin has earned millions of dollars and built sales organizations with over a hundred thousand distributors. As an accomplished trainer and mentor, he has successfully led hundreds of live events around the world assisting people in building their own network marketing businesses. While success has followed Darin in the industry, it's not what separates him. What separates him is his passion for helping people see success of their own by teaching them to do exactly what he has done. Succeed.
To learn more about Nerium and how you can work with Darin visit: darinkidd.com
About Nerium International
Nerium International, LLC, headquartered in Addison, Texas, is a relationship marketing company that markets breakthrough products validated by science. Since its August 2011 launch, Nerium has reached record-breaking sales and earned industry accolades, while building a loyal customer base of millions in the U.S., Canada, Mexico, and South Korea. Nerium debuted on Inc. magazine's 34th annual Inc. 500 List of America's fastest-growing private companies as the No. 1 consumer products and services company. Nerium was also ranked No. 12 on the list overall. Led by an award-winning executive team with more than 220 years of collective industry experience, Nerium International is committed to developing and distributing anti-aging products rooted in real science, produce real results, and improve consumers' lives. For more information, please visit nerium.com.