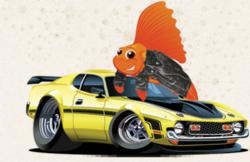 Hats off to Franchitti for securing a well-deserved victory one of the most competitive races I've certainly ever seen.
Indianapolis, IN (PRWEB) May 28, 2012
RoadFish.com men's lifestyle and finance magazine commends Scottish racing driver Dario Franchitti on achieving a first-place win during Sunday's 96th Indianapolis 500. Franchitti's victory marks the third time that he has won first-place in the well-known race, making him only the seventh man in racing history to have won the prestigious Indy 500 three times. RoadFish.com is especially impressed with the way Franchitti fought back from last place to first, after being struck by another driver's car.
Bruce Martin of Sports Illustrated reported that he believed that Sunday's Indianapolis 500, the 96th race of its kind, was one of the most competitive in the long history of races before it. Not only was the weather a near record-breaking sweltering 91 degrees, but this particular race did break records with there being 35 lead changes between ten different racers on the track. In the exciting and adrenaline filled lead lap, there were 17 cars. Martin reported that one aspect that made Franchitti's victory so impressive was the fact that he battled his way back to first place after the car of racer E.J. Viso struck Franchitti's during at Lap 15. Martin writes that the hit to the rear sent Franchitti's car spinning into the pits, and resulted in damage to the front nose and front wing. Despite the holdup, Franchitti battled back and made a miraculous first-place recovery. Franchitti is quoted as saying, "Whether I get spun in the pits, we didn't get back up, that's what it was going to give me today," Franchitti said. "The key was timing my passes. A good car, but I was able to time the passes coming up. One of the reasons I love driving for the Target team, it's the same thing the Andretti guys have, there's no giving up. It's like, Okay, great, here we go. This is the situation we find ourselves in. How are we going to get out of it? We did today. To finish 1-2 with Scott, have T.K. third, that was a cool result."
Franchitti told Sports Illustrated that he was most touched that he will be able to have his face bookend that of the late Dan Wheldon's on the BorgWarner Trophy. Wheldon, who is the victor of last year's Indy 500, died tragically in a car crash in October 2011 during the IndyCar Season Finale at the Las Vegas Motor Speedway. Franchitti won the 2010 Indy 500 in addition to this year's, so his face will sit on either side of that of his deceased friend and respected racer, Dan Wheldon's. Franchitti is quoted as saying, ""To be on either side of Dan -- that means more to me than anything."
RoadFish.com's Senior staff writer is quoted as saying, "This was one impressive race. I'm not even the biggest fan of car racing, I'll be the first to admit that, but this race was something else. There were so many guys in the lead, and the last seconds were just so climactic. Hats off to Franchitti for securing a well-deserved victory one of the most competitive races I've certainly ever seen."
39-year-old Dario Franchitti was born in Scotland, and became interested in "karting," or kart racing, as a boy. When he was in high-school, he won the Karting Scottish Junior Championship in 1984 and the British Junior Championships in 1985 and 1986. He won the Scottish Senior Title in 1988. Franchitti used to compete in the CART series, however switched to the IndyCar Series in the course of his career. Franchitti used to be a NASCAR driver for Chip Ganassi Racing, however the team was shut down in 2008 and he returned to IndyCar in 2009. He is the victor of three Indianapolis 500 races, taking first place in 2007, 2010, and 2012, becoming only the seventh racer to have achieved three career Indy 500's. He is also only the second driver in the history of the IndyCar Series to win four titles in four back-to-back series of racing.
Jeff Olson of USA Today reported that it seemed as though Franchitti fought to regain composure as he held back tears after his win, but not because he was overcome by the joy of the victory. Rather because he was remembering his friend and fellow racer, the late Dan Wheldon. Franchitti is quoted as saying, "What a race. I think D-Dub [Dan] would be proud of that one. … This means the world. This is Indianapolis. To be on this trophy on either side of Dan, that means more than anything." Wheldon was honored at yesterday's Indy 500 by an honorary lap before the start of the race (taken in Wheldon's Indy 500-winning car, no less) as well as a 98th lap as a tribute to Susie Wheldon's, Dan's wife, whose presence at yesterday's race marked her first time back to the track since Dan's death last October.
RoadFish.com was touched to see how much Franchitti kept Wheldon's memory alive yesterday after his victory. RoadFish.com's Senior staff writer is quoted as saying, "It was very nice to see how much it meant to Franchitti to have his name be side by side on a trophy to somebody that he was so close to, and so deeply admired. Franchitti did a really good job of honoring Wheldon yesterday, and he's right—I really do think that his friend would have been very proud of him yesterday."
Wheldon's death shook up many, but his memory is kept alive and the love for the sport goes on. In the above-mentioned USA Today article, Franchitti is quoted as saying, "Vegas was the lowest of the low, and I think the reason we all got back in the cars … is because days like today, the emotion of something like today. That's what I got back in the car. There's not a feeling like standing in victory lane. There just isn't."
About RoadFish.com
RoadFish.com is an online men's lifestyle and finance magazine targeted toward men in their 30's and 40's that have already attained a moderate level of success in life, and are striving toward more. It goes over current events of interest to this group, such things as exciting adventures, consumer interests, and British celebrities, as well as ways to make more and save more money. It is a publication owned by Purpose Inc.