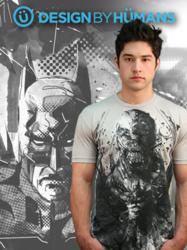 Congratulations to the Dark Knight Contest Winners. View the winning designs at DesignByHumans.com
Irvine, CA (PRWEB) April 30, 2012
The top 5 Dark Knight T Shirts are from a truly talented group of artists. There was a pool of thousands of submissions including funny, ridiculous, refined, conceptual, simple and creative. From that pool, there were at least 30 leading designs that made decisions tough with the final winners selected by Christopher Nolan writer/producer/director and Producer Emma Thomas. The Dark Knight shirts are now ready to be presented to the public just in time for the movie to be released, and will be sold exclusively from DesignByHumans.com.
Each artist was interviewed about their design, and they provide some great insight into their styles and techniques. The DesignByHumans Live U stream channel will spotlight the artist, and they will take live questions from the audience the day their shirt is released.
The shirts are printed on premium blend cotton shirts for maximum comfort and quality. The designs are screen-printed with inks so your design will last for many years. Weather you decide to wear the shirt or add it to your Dark Knight Rises t shirt collection; you are sure to receive a high quality t-shirt from the best designers, printers and t shirt manufactures.
There will be limited prints, so its encourage to order as soon as possible. Design By Humans is looking forward to hosting more epic t shirt design contests down the road. There are hundreds of other graphic tees available on the site, from t shirt designers around the world.
The epic journey begins with the Dark Knight T shirt competition. As the Dark Knight and Bane know the competition is tough, but the true leaders have emerged. The winners have been selected from an incredible competition that brought submissions in from all around the world.