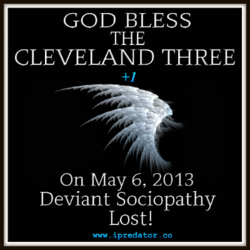 Dark Psychology is a criminal & deviant construct exploring the dark side of human nature. Developed by iPredator founder, Dr. Michael Nuccitelli.
Poughkeepsie, New York (PRWEB) May 08, 2013
On May 6, 2013, the Dark Psychology of the Cleveland kidnapping suspect and missing women found news shocked America. Three young women and a child were reunited with their family after being held captive for over a decade by a Cleveland, Ohio man. New York State licensed psychologist, certified forensic consultant and author of the Information Age Forensics construct, iPredator, announces his availability to discuss the profile and motivations of the alleged kidnapper. Dr. Nuccitelli is available to discuss the kidnapping suspect, Ariel Castro and criteria for the dangerous disorder known as sociopathy.
Cleveland Kidnapping Suspect Ariel Castro Hid a Dark Side, His Uncle Says: ABC News: May 7, 2013.
Given the news hitting the nation is a mere 36-48 hours, Dr. Nuccitelli has compiled data relevant to profiling a sociopath that does not require an extensive forensic evaluation. Assuming reports are correct that the three young women were held captive for a decade, Dr. Nuccitelli has compiled information about the assailants that are highly probable. His general bullet list outline is as follows:
HALLMARKS OF A SOCIOPATH
1. Lack of remorse, shame or guilt
2. Severe narcissism and grandiosity.
3. Does not recognize the rights of others.
4. Views people as targets, opportunities & objects.
5. A pathological liar and often talented at deception.
6. A capacity for criminal or entrepreneurial versatility.
7. Adept at being manipulative and conning.
TREATMENT AND/OR FANTASIES TOWARDS VICTIMS
1. They fantasize about or attempt to enslave of their victim(s).
2. They fantasize about, attempt or succeed at exercising control over every aspect of the victim's life.
3. Tend to be highly dependent upon their victim's affirmation (respect, gratitude and love.)
4. They fantasize about and attempt to create a willing victim.
5. They alternate between rage and abuse switching to small expressions of love and approval when interacting with their victims.
6. They create an addictive cycle between themselves and the targeted victim.
7. They fantasize about, attempt or succeed at creating a sense of hopelessness in the victim.
HOW THE SOCIOPATH SUCCEEDS AT LIVING A DOUBLE LIFE
1. Their capacity to be proficient at exhibiting superficial charm.
2. When in public arenas, they present themselves with a conventional appearance.
3. Depending on their situation, they change their image as needed to avoid prosecution.
4. Depending on their social environment, they change the specifics of their life.
5. They are consistently secretive & tend to be mildly paranoid.
6. They are excellent actors and can blend in with their environment.
7. They are pathological liars and are masters at practicing deception.
As a forensic psychologist, Dr. Nuccitelli is also the author of the new theoretical criminology construct called Dark Psychology. A brief definition is as follows:
Dark Psychology is the study of the human condition as it relates to the psychological nature of people to prey upon others. All of humanity has this potential to victimize other humans & living creatures. While many restrain or sublimate this tendency, some act upon these impulses. Dark Psychology seeks to understand those thoughts, feelings and perceptions that lead to human predatory behavior. Dark Psychology assumes that this production is purposive and has some rational, goal-oriented motivation 99% of the time. The remaining 1%, under Dark Psychology, is the brutal victimization of others without purposive intent or reasonably defined by evolutionary science or religious dogma.
About iPredator Inc.
iPredator Inc. is a New York State based Information Age forensics company founded to provide educational and advisory products & services to consumers and organizations on cyberbullying, cyber harassment, cyberstalking, cybercrime, internet defamation, cyber terrorism, online sexual predation and the new field the founder is pioneering termed, Information Age Psychology.
Created by a NYS licensed psychologist and certified forensic consultant, Michael Nuccitelli Psy.D., C.F.C., their goal is to reduce victimization, theft, harm and disparagement from online assailants. In addition to assisting citizens, their mission is to initiate a national sustained educational & awareness campaign with the help of seed funding from private, state and federal agencies. At the website, they offer a variety of products and services all developed by Dr. Nuccitelli and relevant to internet safety and cyber attack prevention.
Contact:
Michael Nuccitelli Psy.D., C.F.C.
NYS Licensed Psychologist
C.E.O. iPredator Inc.
347-871-2416
Website: http://www.iPredator.co