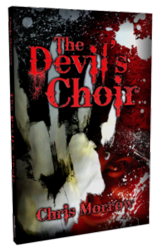 (PRWEB) October 23, 2012
Athanatos Christian Ministries is a Christian publisher that dares to explore the darker side of our lives on this earth, grappling with the truth about human nature and the world we find ourselves in. A prime example is their upcoming release in the 'Christian horror' genre, Chris Morrow's "The Devil's Choir."
The book, which will be officially available as an ebook tomorrow, October 24th, addresses questions about the nature of reality itself: is there more going on in our world than the eye can see? Are there spiritual realities? If so, might they be at war? Are humans merely 'meat machines' or are they also spiritual creatures? If so, might they also be at war--spiritually--with each other, and with themselves?
"The Devil's Choir" will be released in print in January, 2013. It's website is http://www.devilschoir.com.
"The Devil's Choir" is not ACM's first descent into the macabre, though. It has previously released a collection of short stories by Pastor Jamie Greening of Port Orchard titled "The Haunting of Pastor Butch Gregory." Greening's sometimes violent prose pushes readers to ponder whether or not it is true that 'all people, deep down, are good and decent.' Many of his stories draw from his own life in the ministry. The weariness that pastors sometimes wrestle with and the worldly influences that pull the Church away from its mission are embodied in several of the stories, in some cases, brutally.
"The Haunting of Pastor Butch Gregory" is available in print as well as an ebook on Kindle and other online outlets. The book's website is http://www.divinehaunting.com.
ACM's Executive Director, Anthony Horvath, has released his own provocative collection of short stories. Available only as an ebook, the collection titled "Richard Dawkins, Antony Flew, and Mother Teresa Go to Heaven" stirred up a firestorm of criticism in the atheist community, although most of the critics based their remarks only on representations made by a small handful of atheists who actually read the work.
Described by one atheist as illustrating 'torture porn,' Horvath says that the short stories actually only try to portray how each of the named individuals might respond if suddenly presented with overwhelming evidence that Christianity was right all along. He says, "What if there really is a God, there really is a heaven, and there really is a hell? What if they aren't mere dogmas and doctrines, but they are actually true and real? The stories simply reflect person's reaction when they discover that what they doubted was actually real."
Due to the rampant misrepresentations and misunderstandings of these stories, Horvath released an updated edition that briefly answers the critics and includes two new stories, both named "Anthony Horvath Goes to Heaven" was released this summer. The short story collection can be found on the Athanatos website.
As an apologetics ministry, Athanatos Christian Ministries appears ready to defend not just Christianity, but Christianity's conception of reality.
Explaining the ministry's purpose in publishing the works, Horvath says, 'Through the use of stories, we aim to show that the Christian conception of reality is not just a figment of imagination, but actually describes most people's experience of reality. Whether or not readers are willing to admit that only the Christian worldview satisfactorily explains all aspects of human existence--including the darker elements--is something we are willing to leave as a matter between the reader... and God."