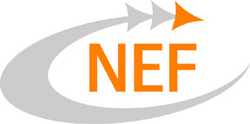 NEF works hard to find custom solutions that meet not only the communications needs of our clients but also the long term business requirements
Framingham, MA (PRWEB) September 27, 2007
What started out as a two-person shop brokering local dark fiber deals has entered the national stage, specializing in helping enterprise customers plan end-to-end connectivity solutions for their business needs.
NEF began as a regional player in the telecom industry in 2004. This summer, they surpassed the $1.5 million mark in contracted revenue and have garnered the respect of major carriers as well as notable enterprise customers as the go-to consulting firm for telecommunications and high capacity bandwidth. Recently, NEF President Michael Murphy grabbed the cover of Phone+ magazine and the feature story, Gigabit Gold: How Agents Can Profit from the Big Bandwidth Boom.
NEF's success has happened largely by pulling back the curtain of telecom. By developing extensive network asset databases and leveraging mapping technology, NEF has taken what used to be a cloaked industry, often favoring the local phone company, and has made it accessible to companies looking to build their own proprietary network. Their dark fiber maps and building database, FiberLocator™ and BuildingLocator™, respectively, catalog available communications networks and locations for over 50 providers in 120 markets across the U.S. and represent available connectivity in 50,000+ commercial buildings.
Data centers are another area of expertise and differentiation for NEF. As more and more companies move data centers off-site, the need for locating appropriate network assets grows. By carving out a niche with their knowledge of data center connectivity and relationships with dark fiber equipment providers like Ciena, NEF is facilitating new options in a market previously underserved.
"NEF works hard to find custom solutions that meet not only the communications needs of our clients but also the long term business requirements," says NEF Vice President of Business Development, Steve McCarthy. "We specialize in understanding your business beyond just your connectivity needs. This allows us to help you build a network that is secure, scalable and cost effective for the future."
NEF has agent relationships with 50+ carriers that range from small municipal carriers to large national players. What makes NEF different from most master agents is the unique carriers that are found in the NEF portfolio. The diverse underlying fiber providers are represented in one common network database and enable NEF to provide custom fiber based network solutions.
NEF's customer base spans large organizations in fields such as finance, health care and higher education, as well as large enterprise players looking to get more affordable prices on higher bandwidth requirements.
About NEF
NEF, Inc., is one of the nation's top telecommunications consulting firms, offering 25 years of industry experience and a proven methodology for providing its customers with the best networks, information and pricing available. NEF can provide a broad spectrum of products from dark fiber to high capacity bandwidth, fully managed optical services. Through their partners, such as AboveNet, NEF designs custom connectivity solutions and provides access to over 50 fiber providers in 48 states, 3 million miles of metro and national fiber and over 50,000 lit buildings.
###