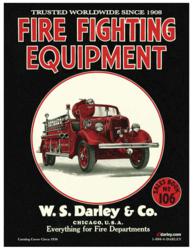 Customers can browse a digital version of the catalog online at our eDarley website.
Itasca, IL (PRWEB) September 24, 2012
W.S. Darley & Co., a global supplier of firefighting equipment, announces the release of their fall 2012 catalog. The catalog features over 200 new innovative products.
"We have added both quality products from trusted name brands and innovative items from new partners," said Paul Darley, President of W.S. Darley & Co. "Customers can browse a digital version of the catalog online at our eDarley website."
"Darley traditionally sends out a catalog to every fire department in the U.S.," said James Long, Vice President of Darley's Equipment Division. "Fire Departments continue to demand a print catalog; we don't see this going away any time soon."
New products from Darley's Catalog #259:
LED Right Angle Flashlight from Pelican
SureFit™ COBRA™ Hood from PGI
BlitzForce Portable Monitor from Task Force Tips
Eco 10 Double Jacket Attack Hose from Key Fire Hose
Bowring Personal Firefighter Tool
SLR Beacon from Federal Signal
NFPA Tool Kit from Darley
Stow-N-Lok from Pac Tool Mounts
Domestic preparedness has become a major focus for many of our customers. "We've listened to their needs and have increased the selection of de-contamination shelters, portable showers, and Personal Protective Apparel (PPE)," said James.
Darley's equipment website edarley.com has also been given a redesign. "We think customers will find the new super-menu easier to navigate." said Joe Catina, Web Manager at Darley. "The top of our site now displays our most popular product categories including: Firefighting Hose, Turnout Gear, Rescue Equipment, Nozzles, and Apparatus Equipment.
About W.S. Darley & Company
Since 1908, Darley has been dedicated to serving the world's first responders. Darley's corporate headquarters are located in Itasca, Illinois, and their manufacturing, engineering and research and development operations are in Chippewa Falls, Wisconsin. Darley remains a family owned and operated business. The entire Darley Company is committed to customer satisfaction. Darley is dedicated to excellence and offers a diverse line of firefighting gear and services through progressive design, manufacturing and distribution.