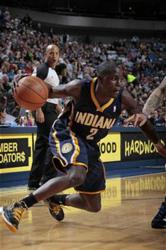 Los Angeles, CA (PRWEB) May 31, 2012
Darren Collison, UCLA graduate and Indiana Pacers point guard, officially launched his website, http://www.DarrenCollison.com. Most known for his success as a UCLA Bruin, Darren Collison has slowly entered the spot light as a star guard in the NBA. His star power has been on display during the 2012 NBA Playoffs.
His NBA career started in 2009 as he was drafted 21st overall by the New Orleans Hornets. He quickly had to fill big shoes as the former New Orleans star guard Chris Paul went out with an injury. The coaching staff quickly turned to Collison to become the starting point guard. This paved the way for his impressive first year in the league as he set he set a Hornets rookie-record with 18 assists and scored 17 points, but not long after that record he went on to defeat his own record with a Hornets rookie-record of 20 assists along with 16 points.
As Collison became more comfortable with the NBA style of play, Collison took to the record books again as he became the second rookie to get a triple-double with 18 points, 13 rebounds, and 12 assist. Shortly after the season Collison was a part of a four-team, five-player trade, which sent him to the Indiana Pacers.
Collison was no stranger to the center spotlight as he was widely considered to be one of the top point guard prospects in the 2009 NBA Draft coming out of UCLA. This prestige's label was a tribute to his performance while attending UCLA. While at UCLA, he was named to the All-Pac-10 team after averaging 14.4 points, 4.7 assists, and 1.6 steals per game. He also went on to win the Frances Pomeroy Naismith Award, awarded to the best college player 6 feet or shorter.
His accomplishments while at UCLA have always been at the top of his list, but Darren's most recent performance in the 2012 NBA playoffs has fans and corporate sponsors talking. His success in the playoffs has made him more available than ever for corporate appearances, motivational speaking engagements, VIP meet and greets, autograph signings, basketball camps, product endorsements and more.
Written by: Anthony Fernandez
About AthletePromotions.com
AthletePromotions is a sports marketing firm and athlete booking agency securing thousands of athletes for speaking engagements, corporate appearances, product endorsements, autograph signings, spokesperson campaigns, celebrity golf tournaments, VIP Meet & Greets and more. To book an athlete, call us at 1.888.246.7141
Ryan Totka and his team at AthletePromotions have assisted corporations in booking Darren Collison and basketball celebrities for speaking engagements, corporate appearances and VIP Meet & Greets.