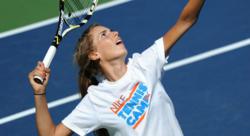 Empowering young athletes with the right training tools at an early age is crucial to enhancing their performance
San Rafael, CA (PRWEB) February 23, 2012
For the second year in a row, Nike Tennis Camps will continue to offer Dartfish video solutions to young tennis players and athletes at select locations. The partnership will enable coaches to film the campers while playing tennis and other sports, compile the footage into a digital library of video clips highlighting movements with key positions, upload videos on Dartfish. TV for private viewing, analyze the movements, and compare them to a professional player of choice. As a result, coaches and players can review performances and recommend corrective actions.
With its U.S. Headquarters in Alpharetta, Georgia, Dartfish, a private company, develops video solutions, making the power of video accessible to millions of users and empower them to create, enrich, publish and monetize video content. Dartfish is trusted by thousands of sports organizations to create and distribute video content. It sets the video standard across sports, education and healthcare industries. Its video platform, http://www.dartfish.tv, is today the trusted choice of elite organizations, federations and corporations all around the world.
"Empowering young athletes with the right training tools at an early age is crucial to enhancing their performance," said Victor Bergonzoli, Dartfish's chief executive officer. "Video is a powerful medium to learn and we are delighted that Nike Sports Camps has made it possible for these young athletes to experience the same sophisticated learning techniques that are used by professional players."
Nike Tennis Camps offer junior and adult overnight and day tennis camps at 74 locations nationwide. The camps provide first-rate instruction, match play, diversified social activities, exposure to life in a university setting – and the chance to build lasting friendships. Our goal is to give players the opportunity to hit thousands of balls, improve their technique, and be challenged by some of the best players in their peer group.
"We run sports camps so that young athletes can get better, through concentrated training and high quality coaching," said Charlie Hoeveler, CEO, USSC. "The use of Dartfish technology substantially helps our campers with fundamental improvement. It is one of the best learning tools available anywhere and we've been incorporating it into the majority of our Nike Tennis and sports camps last summer and will continue to offer Dartfish at even more locations this summer."
Many Olympic champions use Dartfish video technology to train and enhance performance. During 2010 Vancouver Olympics, 112 medals were won by athletes using Dartfish video solutions. Dartfish enables users to create unique content, enriched with comments and illustrations, analyze multiple games and performances, and selectively share the videos on Dartfish.TV. These unique capabilities have already made Dartfish.TV the choice of winning sports organizations, and now the platform is being adopted by groups in education and other industries.
About US Sports Camps
US Sports Camps (USSC), headquartered in San Rafael, California, is America's largest sports camp network and the licensed operator of NIKE Sports Camps. Founded in 1975, Nike Tennis Camps is a division of US Sports Camps. What began 37 years ago as one tennis camp is now a national network with more than 500 camps across the country in a wide variety of sports. Players, coaches, parents and others interested in Nike Tennis Camps and US Sports Camps can visit the company's website at http://www.ussportscamps.com/tennis or phone 1-800-Nike-Camp.
# # #