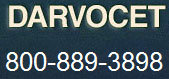 (PRWEB) June 30, 2011
According to Flood Law Group, LLP, people who were treated with Darvocet® before the recall might be eligible to file a Darvocet® lawsuit. Lawsuits seek financial compensation for the cost of medical bills and treatment, lost wages and pain and suffering.
All propxyphene-based drugs, including Darvocet® and Darvon® were recalled on Nov. 19, 2010 due to heart-related side effects, including arrhythmia, heart attack and congestive heart failure.
"The FDA sought market withdrawal of propoxyphene after receiving new clinical data showing that the drug puts patients at risk of potentially serious or even fatal heart rhythm abnormalities," the agency wrote in a Nov. 19, 2010 news release. "As a result of these data, combined with other information, including new epidemiological data, the agency concluded that the risks of the medication outweigh the benefits."
Xanodyne Pharmaceuticals, Inc., maker of Darvocet® worked with the FDA to notify patients and healthcare providers of the recall.
DarvocetSideEffectsLawyer.com is an online resource that provides information and resources for individuals and families that have been affected by Darvocet® heart side effects. It was created to spread awareness about the Darvocet® recall and to help affected patients recover compensation for their injuries and loss.
For more information about pursuing a Darvocet® lawsuit, or to schedule a free and private consultation with a defective drug attorney, please call 1-800-889-3898.
###