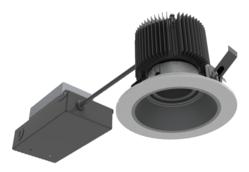 The two new remodel housings will enormously expand the flexibility of Dasal's already-extensive line of superior LED downlight trims...
Port Coquitlam, BC, Canada (PRWEB) April 23, 2013
Dasal Architectural Lighting, an innovator in specification-grade accent and downlighting for residential and commercial applications, today announced the release of its new DLR-R round and DLR-Q square LED remodel housings for residential, hospitality, retail and light commercial retrofit applications.
These new 4-inch (nominal) housings offer designers, contractors and other remodeling professionals the option to upgrade existing small-aperture halogen installations to energy-efficient LED. Dasal's compatible LED trims, featuring high-quality LED lighting modules by Xicato, can reduce power consumption by 60 to 70 percent compared to halogen MR16s. They ensure the long-life dependability of a dedicated LED fixture with the simplicity and versatility of halogen.
The new remodel housings will enormously expand the flexibility of Dasal's already-extensive line of superior LED downlight trims for low-profile area lighting, grazing and powerful accent lighting.
The DLR's unique design allows installation and maintenance of the 120V light engine, complete with power supply and high-efficiency heat sink, through a ceiling aperture as small as 4-1/2 inches in diameter for the DLR-R and 3-7/8 inches square for the DLR-Q. Rated for non-IC ceilings, only 1/2 inch of clearance is required within the plenum. Therefore, DLR assemblies can accommodate very shallow plenums, as low as 3-1/2 inches depending on the trim chosen.
The light engine comprises a dimmable electronic driver hardwired to one of Dasal's versatile LED downlight trims. These Dasal LED light engines offer thermal feedback protection to keep the LED lighting module running at optimal temperatures or below. A self-regulating temperature probe mounted directly above the LED communicates with the driver, subtly dimming the module down in case of abnormally high operating temperatures.
Each housing's dedicated power supply accepts either an electronic low-voltage dimmer (ELV) or 0- 10V dimmer, and dims smoothly down to 1%.
LED downlight trims: light quality without compromise
LED luminaires from Dasal are integrally designed with the latest generation of Xicato LED modules, backed by the Xicato Five-Year Color Consistency and Lumen Maintenance Warranty. Trims come in 80 CRI standard, or high-color-rendering 95 CRI optional. Three color temperatures – 2700K, 3000K and 4000K – enrich the colors and ambiance of any décor.
The Dasal trims that are compatible with the new DLR remodel housings currently offer lumen packages equivalent to 35W and 50W halogen MR16s, and beamspreads from 20 to 60 degrees. The DLR housings are engineered to accommodate more-powerful LED illumination modules, including a 75W MR16 equivalent that will be available later in 2013.
The DLR-R round remodel housings bring Dasal's most popular LED recessed downlight trims to retrofit applications. The Aurora, for instance, delivers performance with excellent glare control. Other families include the subtly ornamental Conus and Corona, the adjustable Starlight and the Aqua and Coral lensed shower lights.
The DLR-Q square remodel housings accommodate trims with a more urban, orthogonal aesthetic. Miro conceals a deeply regressed light source and features a variety of aperture finishes. Consider the Forte, with its minimalist 2-inch aperture, the Quadra and the lensed Quadra Wall Wash.
Dasal Architectural Lighting celebrates its fifth year as a Xicato Xtra partner and will premiere the DLR-R round and DLR-Q square remodel housings, along with a variety of trim options, at the Xicato booth (Booth #3311) at LIGHTFAIR INTERNATIONAL, April 23–25, 2013.
About Dasal Architectural Lighting
Dasal Architectural Lighting has been creating new markets and supplying superior lighting products for more than 20 years. Dasal manufactures specification-grade, European-style lighting for residential and commercial applications. The exceptional line of LED downlights and accent lights builds on a highly regarded market position in low-voltage halogen and metal halide. While Dasal's management and staff are very proud of their reputation for innovation and product performance, it is customer satisfaction that defines success.
Dasal Architectural Lighting is a privately owned company, headquartered near Vancouver in British Columbia, Canada. For product photos, spec sheets or more information, please visit http://www.dasalindustries.com.