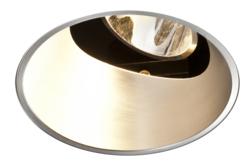 Meticulous design and quality manufacturing enable easy installation and a smooth, uninterrupted ceiling plane.
Port Coquitlam, BC, Canada (PRWEB) April 23, 2013
Dasal Architectural Lighting, an innovator in specification-grade accent and downlighting for residential and commercial applications, today debuted its Trimless line of small-aperture LED luminaires that provide glare-free lighting and a clean, uncluttered ceiling plane.
Dasal's Trimless line includes seven of Dasal's most popular LED downlight and accent light trims along with six new Dasal Trimless housings for new construction. The integrally engineered LED trims and housings ensure the long-life and hassle-free dependability of a dedicated LED fixture. The minimalist aesthetic is ideal for high-end applications such as residential, retail, hospitality, showrooms and corporate offices.
Developed around high-quality LED light sources from Xicato, Dasal now offers a holistic, high-efficacy alternative to trimless downlights and accent lights that use low-voltage halogen light sources. The new LED Trimless luminaires are 60 to 70 percent more energy-efficient than halogen MR16s.
Dasal Trimless 4-inch (nominal) housings come in round (DLD-F-T/L) and square (DLD-F-Q-T/L); both available in insulated-ceiling (IC) and non-IC versions for drywall ceilings. The round Trimless housing for adjustable accent lights (DLX-F-T/L) is height-adjustable to accommodate various ceiling thicknesses, both IC and non-IC. These powder-coated steel housings architecturally integrate into the ceiling plane for "Visually Seamless" LED downlighting and accent lighting.
Meticulous design and quality manufacturing enable easy installation and a smooth, uninterrupted ceiling plane. The 120V dedicated driver is hardwired to a trim, which contains the LED module and high-efficiency heat sink. They can be installed, changed out and maintained from below, through the aperture of the finished ceiling: 3-5/8 inches in diameter or 3-1/2 inches square. This allows the contractor to install just the housing and close up the ceiling. Trims can be installed later, when heavy construction and painting are concluded, protecting the luminaire's finishes, accessories – and the LED module – from dust or rough treatment.
Dasal Trimless LED: light quality without compromise
Trimless LED downlights and accent lights from Dasal Architectural Lighting, featuring state-of-the-art Xicato LED modules, deliver excellent color uniformity, both fixture-to-fixture and within the beam. These products are backed by the Xicato Five-Year Color Consistency and Lumen Maintenance Warranty, the industry-first warranty that guarantees visually consistent light for 5 years.
The new line currently offers lumen packages equivalent to 35W and 50W halogen MR16s, in flood and wide flood. They come in three versatile color temperatures – 2700K, 3000K and 4000K – with 80 CRI standard. For demanding applications requiring precise color on par with halogen, high-color-rendering 95 CRI is optional.
The round Aurora Trimless luminaire delivers performance with excellent glare control, while the Pinhole Trimless quiets the ceiling even further with a white or black baffle. The subtly decorative Conus Trimless, Flare Wall Wash Trimless and Aqua Trimless lensed shower light round out the line.
Suited to modern, rectilinear designs, Dasal's square Miro Trimless features four different aperture colors, which allow the designer to match interior finishes.
For powerful but efficient accent lighting, the adjustable Nova Trimless delivers virtually full luminous intensity at 40 degrees vertical tilt (in drywall applications) and allows 362-degree horizontal rotation. "Hot aiming" permits simple and accurate focal lighting.
Dasal celebrates its fifth year as a Xicato Xtra partner and will premiere the Trimless LED downlighting and accent lighting line at the Xicato booth (Booth #3311) at LIGHTFAIR INTERNATIONAL, April 23–25, 2013.
About Dasal Architectural Lighting
Dasal Architectural Lighting has been creating new markets and supplying superior lighting products for more than 20 years. Dasal manufactures specification-grade, European-style lighting for residential and commercial applications. The exceptional line of LED downlights and accent lights builds on a highly regarded market position in low-voltage halogen and metal halide. While Dasal's management and staff are very proud of their reputation for innovation and product performance, it is customer satisfaction that defines success.
Dasal Architectural Lighting is a privately owned company, headquartered near Vancouver in British Columbia, Canada. For product photos, spec sheets or more information, please visit http://www.dasalindustries.com.