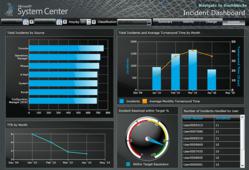 Users don't want to have to export their data to a spreadsheet to perform the calculations they need. Our new formulas engine saves time by performing these calculations completely within the dashboard, providing actionable data at-a-glance.
Toronto, ON (PRWEB) October 04, 2011
In the past, Dundas Dashboard software and consulting has provided many Fortune 500 companies with advanced dashboard solutions that display real-time data and performance indicators designed to enhance decision making. Now, with recent improvements made in version 3.0, dashboards can show you what the future might look like as well!
Access to data in real-time has a number of important benefits and is one of the reasons dashboards are popular. For example, a manager at a hospital may need to see when inventory levels are running low, or when a department is short-staffed. Without quick access to this information, bottlenecks can occur; in the case of a hospital, this could have life threatening consequences. Dashboards help by providing real-time, up to the minute data right when important decisions need to made. All organizations can benefit from the ability to visualize their real-time data.
But what if a dashboard could also display what is likely to happen in the future? It sounds like something out of the science fiction film Minority Report, but with the new analytics features in Dundas Dashboard 3.0, and with help from the experienced consultants at Dundas, organizations can create dashboards that do exactly that!
So how does it work? The new analytics features of Dundas Dashboard allow you to use your past and current data to accurately calculate and display future probabilities. For example, if a fashion retailer wanted to know how much inventory to order for the coming month, they can apply a forecasting formula to their past and current sales and the dashboard will create a projection.
Dundas Data Visualization, Inc. is a leader in advanced data visualization and business dashboard solutions, committed to providing advanced technology and innovation designed to help organizations become more efficient and competitive. In addition to Dundas Dashboard - the company's flagship business intelligence platform - Dundas also offers a professional services group tasked with providing high-quality custom dashboard solutions and training. Over the years, Dundas has provided many Fortune 500 companies with custom dashboard solutions and has received numerous awards.
###