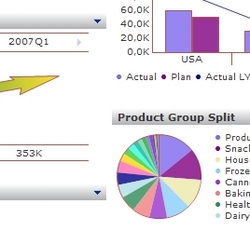 We've had a lot of help from our Customers and Partners in identifying where to put our R&D efforts for this release.
Los Altos, CA (PRWEB) May 19, 2008
On a mission to create the place Where Business meets BI DSPanel provides a further improved version DSP Portal Edition. The awards winning Portal Edition product is specifically tailored to creating Enterprise Performance Dashboards and Scorecards in the Microsoft SharePoint environment. The product is fully compatible with all the latest Microsoft products like Microsoft Office 2007, Microsoft Office 2007 SharePoint Server, Windows SharePoint Services WSS version 3 and SQL Server 2005 Analysis and Reporting Services.
"Showing our long term commitment to providing excellent dashboard and scorecard products for the Microsoft SharePoint community we're proud to ship the 4.6 version of DSP Portal Edition. Apart from further perfecting the UI we've been able to improve performance significantly in this new release" says Peder Ekstrand, Founder and Chairman of DSPanel. "We've had a lot of help from our Customers and Partners in identifying where to put our R&D efforts for this release."
Other significant improvements in this release include multi-hierarchy tree views, advanced impersonation settings and improved Danish localization.
"Cross fertilizing between our products we're constantly evaluating which ideas from our new DSP Performance Canvas product that can be used to improve DSP Portal Edition" says Niklas Derouche, CTO of DSPanel. "At the same time our commitment is to be customer driven in our development. The 4.6 version is a fine example of that where we've been able to address some very important needs that have evolved among our customers".
DSP Portal Edition 4.6 is available for download for registered members on the DSPanel website. To register for trial download visit Registration
For further information please visit DSPanel
Notes to Editors:
About DSPanel:
DSPanel is a global Microsoft ISV Partner specializing in delivering in-context advanced performance dashboard and scorecard technology for ordinary business users, using everyday business terminology, on top of the Microsoft BI platform. DSPanel's products, Performance Canvas and Portal Edition, are used to create BI Web Parts for presenting information from a Data Warehouse within Microsoft Office SharePoint Server or Windows SharePoint Services. The products are sold through reselling partners worldwide and through OEM partners as part of integrated BI Solutions. The company focuses heavily on end user driven innovation, along with superior performance and software flexibility, thus providing a competitive edge to Customers and Partners in real time decision making and action.
DSPanel is a Microsoft global Gold Certified ISV Partner. DSP Clients include Lending Tree, Recall, V&S Group (Absolut Vodka), Bosch Rexroth, 3GIS, First National Bank and Allgon.
For further press and photography contact Jan Morath, CEO at DSPanel, phone +46 (768) 866 468
Decision Support Panel International
Fax +46 (8) 5560 5686
###