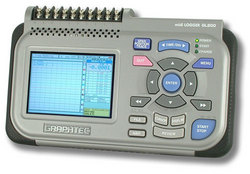 It is as close as anyone can get to placing the instrument in the customer's hand before purchase.
Akron, OH (PRWEB) March 10, 2010
DATAQ® Instruments, Inc. announces the availability of the Graphtec GL200A midi Data Logger, a handheld 10 channel data acquisition instrument featuring a built-in 3.5 inch TFT LCD color display, through their online store. DATAQ Instruments has developed an interactive and comprehensive web page to provide customers with all the information needed to make an educated purchasing decision. The GL200A provides a host of great features including a 3.5MB internal flash memory, a wide measurement range, an optional battery pack for real time in-the field data acquisition, and more.
Comprehensive Web Page
The online product page for the GL200A data logger (http://www.dataq.com/products/hardware/gl200.htm) contains a detailed data sheet that provides a look at all the controls, features, and accessories for the device as well as specifications and dimensional drawings. More than a half-dozen multimedia presentations provide a hands-on look at exactly how the data acquisition instrument is used and just how great the full-color display is. Topics covered in the demonstrations include channel configuration, triggered storage, statistics, and other configuration options. Special "3D" views show every angle of the instrument and provides the customer with a better understanding of all the connections and controls. It is as close as anyone can get to placing the instrument in the customer's hand before purchase.
Features of the GL200A Data Logger
TFT LCD Color Display and Controls: The focal point of the GL200A data logger is its 3.5 inch (320 by 240 pixels) built-in full color display that allows real time trending, data acquisition review, and complete instrument configuration. The onboard keyboard provides full access to the instrument's menu system as viewed through the display. Navigation is straightforward and intuitive.
Measurements: The GL200A data logger has a wide voltage measurement range (20mV to 50V full scale) across eleven programmable measurement ranges providing voltage, current, 4-20mA process currents, or thermocouple-based temperature readings. Optionally, a sensor is available for humidity measurements. Each analog channel is electrically isolated from all other channels and from the data acquisition instrument ground to allow accurate and safe measurements in industrial applications where ground potential differences are common.
Data Storage and USB Interface: The GL200A data logger is equipped with a 3.5 MB internal flash memory to allow the direct capture of acquired data. The built-in USB port may be used to connect any standard USB flash drive for incremental capacity. Alternatively, the USB interface may be connected to a PC to allow data upload in real time or from memory, as well as complete configuration and real time data acquisition.
Portability with Flexible Power Requirements: Power the GL200A data logger from its provided international AC adaptor, from an optional built-in battery pack, or from any 9 to 24 VDC source using an optional cable.
Supporting Software
The GL200A data logger includes a Windows application for direct capture, measurement, and monitoring of data. In addition to waveform and data value capture and display, the application can export data to an Excel file for further analysis and report creation. The software includes built-in help for quick reference.
Pricing and Availability
The GL200A Data Logger is available immediately for purchase through the DATAQ Instruments web site at http://www.dataq.com/products/hardware/gl200.htm using any major credit card or PayPal account. Price is $995 (does not include shipping and handling).
About DATAQ
DATAQ Instruments, Inc., based in Akron, Ohio is a leading producer of PC-based, real-time data acquisition and data logger hardware and software. DATAQ supplies the PC-based instrumentation needs for medical research and industrial test and measurement customers. For more information on the GL200A, visit their web site at http://www.dataq.com. Call DATAQ Instruments at 330-668-1444 or write to: DATAQ Instruments, Inc. 241 Springside Drive, Akron OH 44333. Email requests for information to info(at)dataq(dot)com.
###