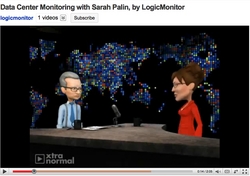 We managed datacenters for ASPs and Enterprises for over 15 years. During that time, we were never able to find a single monitoring system that delivered what is really needed in the trenches by a web-focused company. So we built it ourselves
Santa Barbara, CA (Vocus) April 19, 2010
Data center monitoring provider, LogicMonitor, today launched a new video ad featuring an unlikely guest: Sarah Palin. The monitoring company used a digitally animated version of the former Alaska governor to discuss data center monitoring and automation issues with CNN talk-show host, Larry King (also in animation form). The company hopes the video will not only bring a bit of entertainment to the IT world, but also highlight the need for automated monitoring to help data center managers reduce downtime in today's constantly changing data center environments.
The short video, which includes Palin declaring that she can view the cloud from her house, can be viewed on YouTube:
http://www.youtube.com/watch?v=Kn65C9jsz10
On the need for automated monitoring, LogicMonitor founder Steve Francis notes, "There is often so much change going on with systems and applications that non-automated monitoring has virtually no chance of keeping up with the additions and deletions. Without an accurate, up-to-date view of the health of their infrastructure, companies are exposing themselves to greater risk of outages, and frustrating their end-users."
LogicMonitor allows data center managers to view graphs, dashboards, and set alerts on a variety of devices including physical servers, virtual servers, applications, networking gear, load balancers, and storage devices, all from a single web-based monitoring portal. The fully automated monitoring service eliminates the hours required to configure and maintain monitoring of hundreds or even thousands of devices across the data center. Of equal importance, LogicMonitor's Active Discovery engine automatically keeps itself up to date with any changes.
"We managed datacenters for ASPs and Enterprises for over 15 years. During that time, we were never able to find a single monitoring system that delivered what is really needed in the trenches by a web-focused company. So we built it ourselves," stated Francis.
About LogicMonitor:
A recipient of the Best of SaaS Showplace Award in early April, the Santa Barbara, CA-based LogicMonitor LLC was founded by a team of datacenter managers and technology experts dedicated to making data center monitoring simple. For more information, visit http://www.LogicMonitor.com.
# # #