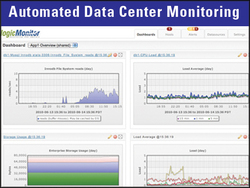 Santa Barbara, CA (Vocus) September 9, 2010
LogicMonitor, an award-winning data center monitoring solution, today announced that the University of California at Santa Barbara has selected LogicMonitor for its Department of Instructional Computing. The department deployed the hosted monitoring solution to simplify and unify performance and availability monitoring for its mix of physical and virtualized IT infrastructure, including servers, applications, networking gear, and storage.
UCSB's Department of Instructional Computing is responsible for managing three main divisions: e-mail and communication services for 20,000-plus students, infrastructure for campus-wide computing labs, and portal-based course management services. Prior to implementing LogicMonitor's integrated service, they had been relying on a mix of open source and homegrown monitoring systems. As their infrastructure became more complex, the need for a more robust monitoring system became evident.
Matthew Dunham, manager of electronic communications for the university, noted, "The open source route was taking up too much of our time. We couldn't keep up with all the maintenance, so monitoring was sliding to the back burner. With 20,000 students depending on campus e-mail services being up 24/7, there's no window for an outage. We needed to find a more viable solution."
After an extensive review of data center monitoring solutions, they decided on LogicMonitor's SaaS-based service. "LogicMonitor does a great job at monitoring the things we know need to be more monitored. Maybe more importantly, it monitors the things that we don't know need to be monitored, but should be. For an enterprise of this size, it's comforting to know that we now have an automated monitoring system that will alert us in advance of any issues before anyone else experiences them."
On the addition of UCSB to its customer-base, LogicMonitor CEO, Steve Francis says, "We're thrilled to have UCSB on board. It's our feeling that universities, with small IT staffs being responsible for large, increasingly complex IT infrastructures, are well suited for our automated SaaS model. We look forward to scaling with UCSB, and continuing to help them simplify their infrastructure management."
LogicMonitor is offered on a Software-as-a-Service (SaaS) basis, which means no capital investment, no additional hardware and no maintenance. Network operations will have the ability to access dashboards, performance graphs and analytics, and receive critical alerts wherever they are via e-mail and SMS. LogicMonitor's automated configuration and Active Discovery engine eliminate the manual configuration and ongoing maintenance required by other monitoring solutions. The system can be deployed in under an hour, giving operations staff virtually instant visibility into their entire IT estate from a single web-based portal.
About LogicMonitor:
Headquartered in Santa Barbara, California, LogicMonitor LLC was founded by a team of data center managers and technology experts dedicated to making data center monitoring simple. The company was the recent recipient of the Best of SaaS Showplace (BoSS) Awards for delivering outstanding business value with a Software-as-a-Service (SaaS) solution, and was also recognized as one of the top network monitoring solutions by TechRepublic, a leading online resource for IT professionals. For more info, visit http://www.logicmonitor.com.
About UCSB:
UCSB is a public research university and one of the 10 general campuses of the University of California system. With an enrollment of over 22,000 students, UCSB has been named one of the country's "hottest colleges" twice in the past decade by the Newsweek guide to America's best colleges. In addition to five Nobel Laureates, UCSB's faculty includes many elected members or fellows of the American Academy of Arts and Sciences (25), the National Academy of Sciences (32), the National Academy of Engineering (25), and the American Association for the Advancement of Science (60). Three UCSB professors also have been named MacArthur Fellows by the John D. and Catherine T. MacArthur Foundation. For more info, visit http://www.ucsb.edu.
###