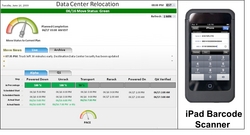 We were able to complete the full data center relocation for Pioneer in just 2/3 of the allocated project time.
Hopkinton, MA (PRWEB) July 1, 2010
Transitional Data Services (TDS) announced today that it has successfully completed an end-to-end data center relocation project for Pioneer Electronics (USA), Inc. This relocation effort included the complete de-installation, moving and re-installation of all IT infrastructure components from one Southern California data center location to another.
By utilizing expertise gained from over 1 million square feet of data center projects and hundreds of unique vendors of IT and data center gear, and leveraging the power of the Transition Manager relocation tool, TDS was able to complete this data center move ahead of schedule and with zero equipment failures.
Transition Manager, a purpose-built tool from TDS designed specifically to manage complex data center relocation projects, assured efficient workforce management and communication throughout the move.
The TDS Transition Manager streamlined the relocation process for Pioneer Electronics. The web dashboard provided continuous, real time status of all assets and labor. The supervisory console provided graphical views of labor allowing for dynamic redeployment appropriate. And the barcode handheld devices streamlined the management of the move team while simplifying data entry throughout the move process
"Transition Manager's real-time dashboard provided us with on-line access through-out the move planning, physical relocation and post move activities," stated Tim Schutt, TDS Principal and VP of Data Center Relocations. "By utilizing TranMan's barcode scan driven process we were able to assure complete restoral of services for Pioneer Electronics in just two thirds of the allocated project time."
Prior to the move, TDS conducted site surveys, inventory and application dependency analysis and delivered a move run book (providing "to-the-minute" resource planning) to ensure an efficient data center relocation. By pre-staging the target data center prior to the actual move, TDS did not waste precious move-day time on cabling, cabinet installation and network engineering tasks.
During the move, TDS provided on-site project management, de-installation of all equipment including servers, routers and fiber and electric connections, management of the transportation of equipment including insurance, full installation of all components and OEM vendor management of over 10 vendors including HP, IBM, Dell, Sun, Brocade, EMC and Cisco.
About TDS
TDS provides unbiased assessments, recommendations and improvements for IT including data center efficiency, data center migrations/relocations, technical operations and open source applications. Since we do not operate as a vendor or VAR, we are not limited by a specific product portfolio and are able to offer the best practical solution that meets the technical, business and budget requirements. For insight in improving your data center migration, please download our complimentary data center relocation white paper.
Transitional Data Services clients are successful organizations of all sizes and industries including John Hancock, Kayak.com, Boston Red Sox, Cedars Sinai, Liberty Mutual and many others. These organizations rely on TDS to operate transparently in their best interest.
# # #