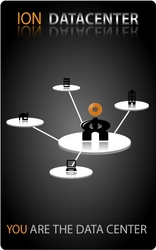 Customers would much rather have their important data stored with their trusted IT guy then a company they don't know. ION makes it easy for them to do that.
Upper Darby, PA (PRWEB) July 11, 2008
ION Data Center from Universe Point is designed to allow IT firms to maintain control of their customer's data. Rather than hand data to a third party backup and storage company, ION gives IT service providers the ability to receive and store off-site backup data from their clients. This capability allows for greater customization in security and restore solutions and benefits from the existing level of trust between the customer and their IT provider.
"We see the practice of utilizing third party, off-site backup and storage solutions as a temporary fix waiting for a solution like ION to provide a better alternative," says Jeff Snader, CEO of Universe Point, "Customers would much rather have their important data stored with their trusted IT guy then a company they don't know. ION makes it easy for them to do that."
In addition to the transfer and receive features which allow ION Data Center Users to accept backup files from numerous off-site sources, ION provides monitoring capabilities which greatly increase the security of backup procedures and the ease with which that security is insured. Highly customizable email notifications, a robust web monitoring dashboard and detailed phone notifications from the Universe Point Monitoring Center make it easy for any IT firm to maintain reliable backups regardless of the number of customers they service.
"The monitoring service, particularly the web interface, makes it simple for IT firms to track every single backup being run by their clients," says Dan Heckman, CIO of Universe Point, "Errors, failures and even inactivity are easy to identify and correct. ION makes it possible to maintain an incredibly reliable backup system without a huge amount of resources."
Companies know they need to get important data off-site for proper disaster recovery planning, but IT firms have lacked a simple way to provide this service for their clients. Often, they have been forced to bring in third-party solutions that dilute their control and complicate their client relationships. These solutions also tend to make it difficult for IT firms to structure revenue streams that account for the additional monitoring and maintenance required. At best such solutions are often simply a break-even proposition for IT firms without a better option.
ION Data Center changes this by eliminating the third-party interference and allowing IT firms to service their customers directly. By providing data storage and monitoring solutions for their clients these firms give customers the peace of mind they want while generating the steady recurring revenue that IT professionals need to be profitable.
"There is a huge demand for this kind of off-site backup," says Greg Bryan of KDI, an IT service provider and Universe Point partner, "The initial response from our existing customer base has been overwhelming. The companies we work with definitely want to store their data with someone they know and trust, and ION has made it easy for us to provide that service."
ION Data Center is a complete multi-site (off-site and on-site) backup solution available to any IT firm looking to provide data storage solutions to their customers. Setup and implementation are made simple through the intuitive design of the software and the expertise of the Universe Point support staff. Predictable pricing structures allow for easy integration into service contracts and pricing sheets. The basic client side software is available for download at http://www.universepoint.com. Those interested in the Data Center version should contact Universe Point sales at sales @ universepoint.com or by calling 610-352-1150.
###