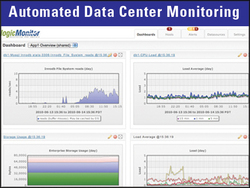 Santa Barbara, CA (Vocus) July 13, 2010
Panoramic Data, a leading UK-based provider of network and data centre management solutions, has today announced a strategic partnership with LogicMonitor, the leading performance management solution for system, network and data centre operations.
With no capital outlay required, LogicMonitor's hosted solution provides unparalleled monitoring, pre-emptive alerting, trending and analytics, essential for maintaining high-levels of business services across multi-vendor and service infrastructures.
On the new alliance, LogicMonitor CEO Steve Francis noted, "We couldn't have landed a better partner than Panoramic Data. Their demonstrated passion for helping enterprises reduce complexity and increase efficiency in today's dynamic data centre environments made them the ideal match. Their expertise and strong commitment to service will be invaluable in helping us support our growing European customer base."
LogicMonitor is offered on a Software-as-a-Service (SaaS) basis, which means no capital investment, no additional hardware and no maintenance. Network operations will have the ability to access dashboards, performance graphs and analytics, and receive critical alerts wherever they are via e-mail and SMS. LogicMonitor's automated configuration and Active Discovery engine eliminate the manual configuration and ongoing maintenance required by other monitoring solutions. The system can be deployed in under an hour, giving operations staff virtually instant visibility into their entire IT estate from a single web-based portal.
Panoramic Data's David Bond said "As modern enterprises gain confidence with the cost-effective and maintenance-free nature of SaaS and Cloud solutions, the benefits of this approach for IT performance management have become clear. LogicMonitor fulfils all the enterprise's business and operational needs, and its comprehensive integration capabilities make it a good strategic choice for IT operations. We are proud to be working closely with LogicMonitor and our clients to bring the highest levels of service to LogicMonitor customers in the UK and wider European region."
About Panoramic Data
Panoramic Data is a UK-based company providing enterprise class network and data centre management software, services, solutions and support throughout Europe. Panoramic Data delivers value to organisations wanting to lower the cost of managing enterprise IT infrastructure.
About LogicMonitor:
Headquartered in Santa Barbara, California, LogicMonitor LLC was founded by a team of datacenter managers and technology experts dedicated to making data center monitoring simple. The company was the recent recipient of the Best of SaaS Showplace (BoSS) Awards for delivering outstanding business value with a Software-as-a-Service (SaaS) solution. Fore more info, visit http://www.LogicMonitor.com
###