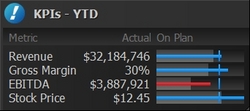 "It's all very well to have spreadsheets and database reports, but if nobody looks at them, it's pointless. With Klipfolio Dashboard, we don't have to go looking for information – it's all there for us" Premier Stationery Gerard Banaghan
Ottawa, Canada (PRWEB) March 23, 2010
Klipfolio, Inc., developer of Klipfolio Dashboard – the KPI Dashboard – today announced the immediate availability of Klipfolio Dashboard version 5.4. The dashboard software has added a host of best-practice data visualization techniques to bridge the operational performance gap between key performance indicators (KPIs) and better decisions. Chief among the innovations packed into Klipfolio Dashboard are additional high-impact data visualization and charting features, an all new ad-hoc find feature for your performance data, and drill across capabilities to map non- homogeneous data sets.
KPI Data Visualization
Bullet charts, credited to visual communications expert Stephen Few, are just one of the new chart options available in Klipfolio v5.4 to help convey substantial information in very little space. Other available charts include full-frame column and pie charts, stacked bar and win/loss charts, sparkline and vertical bar charts. High-impact charts are perfect for at-a-glance dashboards and scorecards, like Klipfolio Dashboard, which promote KPI awareness by remaining visible as a sidebar on user's desktops throughout the day.
Follow your KPIs wherever they go
To complement Klipfolio Dashboard's familiar drill down ability for homogeneous data, version 5.4 allows users to drill across metrics to follow their KPIs across heterogeneous information. For example, beyond drilling down from national to local sales figures, Klipfolio Dashboard users can now also drill across to associated measures such as inventory levels or on-time delivery. And they can do it all on their desktop. The barriers between decision makers and their data are falling.
Use Search skills for your ad-hoc KPI queries
Finding specific information is faster and easier in Klipfolio Dashboard v5.4 too. If you can use a search engine, the same familiar skills help you analyse KPIs. The "find" function in Klipfolio Dashboard is available in all Klips via the context menu, and is intended for ad-hoc use. In addition to keywords, you can use Boolean operators to require, restrict, and refine your queries so you can find just the right slice of performance information.
To truly appreciate the scope of visual innovations baked into Klipfolio Dashboard v5.4, you need to see them for yourself. Try this simple interactive Klipfolio Dashboard demo to see the evolution of the KPI dashboard.
###