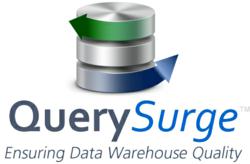 Now, [our clients] are able to test more data, catch more data failures, and easily distribute the results of their work in much less time by using QuerySurge.
New York, NY (PRWEB) April 19, 2013
Real-Time Technology Solutions, Inc. (RTTS) today announced worldwide availability of a new update to its data warehouse testing tool, QuerySurge 2013. QuerySurge's most anticipated release to date has new features tailored to the needs of its enterprise clients. In addition to automation, scheduling, monitoring, and reporting capabilities, users can now create custom email notifications, execute functions from the command line, and define primary keys for enhanced data analysis. QuerySurge delivers these new features to enable ETL testers, ETL developers, operations managers and data analysts to streamline their data warehouse development and quality assurance processes.
The new set of features is designed to help enterprise clients overcome existing challenges with ETL development and data warehouse testing:

Email Notifications: Create triggers within QuerySurge that will automatically send an email notification to a specified user or group of users. Notifications are event-based, and can be kicked off when a scheduled Scenario begins, or after a Scenario ends. These email events are tied to logic-based rules that are set as the criteria for the email trigger. This gives the user customized control over the types of information that is being distributed.
Command Line Interface: The API gives users access to QuerySurge functions directly from the command line. This can be used for situations such as automating your test runs from a Continuous Integration (CI) system, or systematically controlling which tests you'd like to run based on the results of previously run tests. This functionality offers new possibilities for integrating with a user's desired workflow.
Primary Keys: Define primary keys for your queries. QuerySurge works by allowing the user to define a pair of queries, called a QueryPair, that when run, will automatically execute the queries and compare the results. This gives the user the ability to easily see when there are differences in the data returned by the queries, but some assumptions about how the records match up if there are no primary keys available. Now, a user can explicitly define which columns to use as Key columns, which alleviates any assumptions, and allows QuerySurge to return a more detailed analysis of the data.
"We kept hearing that our clients had to use a lot of workarounds to get the level of data coverage they needed from their tests," said Ron Axelrod, Director of Business Development at RTTS. "Now they're able to test more data, catch more data failures, and easily distribute the results of their work in much less time by using QuerySurge."
RTTS will be hosting a live webinar on Thursday, April 25 for those looking to see QuerySurge 2013 and learn how it can help build quality into their data warehousing strategy. To see more details and register, visit the registration page at: http://www.querysurge.com/events/build-quality-into-your-data-warehousing-strategy-with-querysurge-2013.
The latest version of QuerySurge 2013 is also available for trial on the QuerySurge website. For any questions or to schedule a demo, please contact Ron Axelrod, Director of Business Development at raxelrod(at)rttsweb(dot)com.